Heart-Wrenching Video Honors Moms Of Kids Battling Illnesses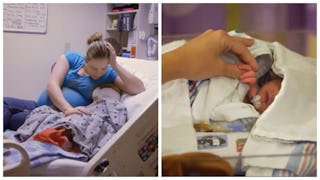 Image via Facebook/Children's Mercy
Moms with children battling illnesses deserve some serious recognition
Good moms deserve all the love and kudos on Mother's Day, but moms with children battling illnesses deserve a special kind of recognition. Which is why Children's Mercy Hospital put together an emotional video for the moms of kids they see in their facility every day — to honor their strength, caregiving abilities, and perseverance through the toughest times with their little ones.
Children's Mercy in Kansas City is a non-profit children's hospital dedicated to providing "family-centered health care, committing to the highest level of clinical and psychosocial care, and exhibiting research, educational and service excellence," according to their website.
Also? They see the lengths moms go to for their children every single day. So they wanted to honor moms of children battling illnesses this year for Mother's Day.
Go ahead and grab a box of tissues before you watch this one.
"Dear Mom, when you brought me into this world you didn't know how hard you'd have to fight to keep me in it," the video begins, showing babies and moms in the NICU.
"When you brought me home from the hospital, you had no idea how many more hospital trips there would be. When the questions start piling up, you never stop demanding answers. When the future was uncertain, you were sure and steady."
The video acknowledges that these moms — even on Mother's Day — are rarely thinking of themselves.
"Thank you for giving me everything you have to give, forever and always."
And give they do — parents of children battling illnesses know no limits when it comes to being there for their children in every tangible and emotional way. I've seen it firsthand with good friends of ours who gave their heart and soul to their beautiful little girl who battled brain cancer for almost half her life. They are truly the most selfless, strongest parents in the world to have endured what no parent should have to experience. And these moms deserve the world.
Since Children's Mercy is a non-profit organization, they rely on community contributions for funding. They're hoping to be able to offer all the moms in their hospital a gift of flowers for Mother's Day — you can donate $5 to help make this happen.
This article was originally published on