A Letter To My Child's Future Kindergarten Teacher
by Mia Carella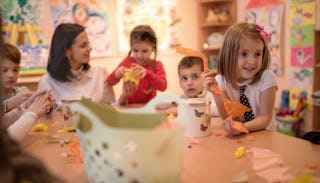 BraunS / iStock
Dear Teacher,
As I sit here and complete piles of kindergarten registration paperwork, I am thinking about you. My "baby" will be entering your classroom this fall. She will be moving on to the "big school" (as she calls it), and she is so excited. I, on the other hand, am a little sad and scared.
Starting kindergarten is a major milestone. While I am sad to see my baby girl growing up so fast, I am proud and excited for her as she enters this new part of her world. She will get to participate in things like art class and music. She will meet new friends in our own neighborhood, which may lead to more playdates. She will build self-confidence and get to feel so proud as she learns new things that you will teach her. These things are priceless.
But I must admit that I am also scared. I feel like I am letting my own heart walk out of my chest and into that "big school" alone and unprotected. What a vulnerable feeling that is! It hurts just thinking about this now. I know you will be there for her, and I thank you for that. Since I cannot be, I want you to be aware of a few things.
Please know that when she says, "Please help you," she means, "Please help me." We are working on that. Please don't be alarmed if she refers to her dad and me by our first names. We are her real parents; this is just something she does. Please take her to the bathroom if she doesn't go for a while. I would hate for her to have an accident because she was too shy to ask. Please know that although she might not be as loud as the other kids, she is taking in everything around her. Please don't let her slip through the cracks. Please make sure she has someone to sit with at lunch. I don't want her to ever feel alone. Please remember that although she is one of many for you, she is my only daughter.
Teacher, I know your job is difficult. It is one of the most important jobs out there. I will be entrusting you with my "heart" for 6 and a half hours a day come September. Thank you in advance for treating her with care.
Sincerely,
Mom of Your Future Student
This article was originally published on