Chip And Joanna Gaines Announce Target Line And Trolls Come Out Of The Woodwork
by Maria Guido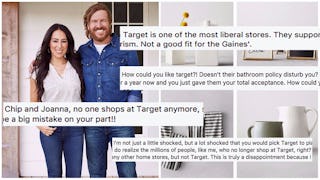 Image via Target
Chip and Joanna Gaines announce Target partnership and 'Christians' flock to their page to slam them for it
When Target announced their inclusive bathroom policy last year, not everyone was applauding. People came out of the woodwork to protest the company's policy allowing transgender people to use whatever restroom corresponds with their gender identity.
Target's Facebook page was flooded with hateful comments and the American Family Association called for a boycott of the retailer because their policy "poses a danger to wives and daughters."
Those of us who realized how ridiculous this was said, "Great. Smaller lines for the rest of us! Bye!"
Now the retailer is partnering with Chip and Joanna Gaines — everyone's favorite home-remodeling super couple. This November, Target will launch Hearth & Hand with Magnolia, "an exclusive home and lifestyle brand designed in partnership with Chip and Joanna."
"The collection reflects a modern take on Magnolia's signature aesthetic with modern, classic, industrial and vintage touches. And in true Target style, most of the items are under $30," reads Target's press release about the collaboration.
Home goods with Joanna's signature style stamped all over them? Most for under $30? Yes, please.
But not everyone is happy about the collab. Some "christians" have a real problem with the couple aligning themselves with the brand — and they showed up on Joanna's announcement to make sure she knew.
"How could you like target?! Doesn't their bathroom policy disturb you? Christians have boycotted them for over a year now and you just gave them your total acceptance. How could you do this?!!!!"
"Target is one of the most liberal stores. They support all kinds of ungodly things like abortion and transgenderism. Not a good fit for the Gaines."
"Yikes this will be difficult to avoid, which I'm confident was Targets angle, but I've boycotted Target for getting political and placing risk on females and my boycott WILL continue."
"Chip and Joanna, no one shops at Target anymore, since they went to transgender restrooms, could be a big mistake on your part!!"
"WHY would you sell at Target when so many wonderful shops would love to have your merchandise? Sorry I won't be able to buy it, haven't set foot in there since they announced either gender can use dressing rooms and bathrooms."
And it goes on, and on, and on. There are over 20,000 comments on the story. This bathroom nonsense is still a thing! Can you believe it?
"Don't shop at Target any more because of their stance on men in women's bathrooms, gays etc. I wish you could pick a more conservative store because I love you guys! Sorry."
"I would love to see your new line but I stopped shopping at Target when they adopted a bathroom/dressing room policy that puts children at risk of child predators and molesters. I'll be sorry to miss your merchandise."
"Kind of surprised about a partnership with Target considering how anti-Biblical values the Target brand is."
Oh, sure. Let's discuss how "anti-biblical" the Target brand is, shall we? We can start with this little bit of info from their press release about the new partnership with Chip and Joanna:
"To kick off the partnership, Magnolia will work with Target House at St. Jude Children's Research Hospital to redesign their dining room just in time for holiday gatherings," Target's press release reads. "Target House is a free home away from home, providing long-term housing for St. Jude patients and their families."
Target has partnered with St. Jude for 2o years — and made possible the construction of the St. Jude Target House, "a place that gives families the chance to maintain a sense of normalcy in their lives during a difficult time." It's long-term housing for families of children receiving treatment at St. Jude's Children's Hospital. That is just the tip of the iceberg of the kind of community outreach and charity Target performs regularly. They provide educational grants, public safety grants, offer incentives for their employees to log volunteer hours — they "give back" to the communities they inhabit.
But sure, boycott them because they allow people to feel safe and welcome in the bathrooms in which they belong. That makes total sense. Jesus would totally co-sign that behavior.
Whatever. More room for everyone else. More stuff for everyone else. More awesome Magnolia collaboration goods for everyone else. Less crowded bathroom lines for everyone else.
The first collection arrives on Nov. 5, just in time for the holidays.
This article was originally published on