Chip And Joanna Have A Sweet Baby 'Tradition' You May Want To Borrow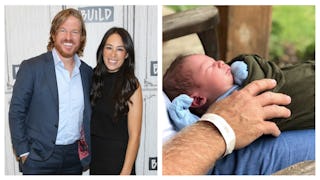 Image via Rob Kim/Getty/Instagram/Joanna Gaines
Chip has upheld the same hospital bracelet tradition with all five Gaines kiddos
Chip Gaines is certainly one proud papa, demonstrated by his wife Joanna's recent Instagram post. In it, she shares a sweet photo and the even sweeter tradition Chip has maintained with each of their five children.
In the picture, we can see baby Crew (how cute is that name, btw?) curled up on his daddy's lap, with Chip's hand gently laying near the baby's face.
"Chip started a tradition with Drake where he wore the hospital bracelet until it fell off," she captions the photo. "Looks like the tradition lives on."
But seriously, how sweet is that? Now it's something I wish I had done, because cutting off our family hospital bracelets really triggered my New Mom Hormones. I immediately saved them in a keepsake bag and occasionally look at them from time to time while my heart swells with a thousand emotions.
It's definitely a touching tradition — nothing fancy, nothing extreme. Just a happy daddy so in love with his latest bundle of joy he can't bear to remove the reminder of his arrival. Sigh forever.
Baby Crew joins older siblings Drake, Duke, Ella, and Emmie Kay — who were all on-hand to welcome their littlest baby brother the day he arrived.
"I think it's sweet because they're older now, and I can see them wanting to be a part of this," Joanna told PEOPLE earlier this year. "We're all rallying around this baby, which I feel is a sweet gift to our family."
This article was originally published on