Chip and Joanna Gaines Are Coming Back To TV -- With Their Own Freaking Network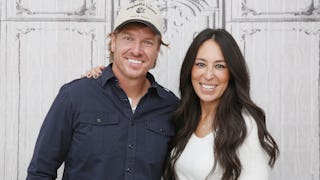 Mireya Acierto/FilmMagic
Put away that black mourning dress, Chip and Joanna Gaines are coming back to television
Just weeks after saying that they would never rule out a return to television, Fixer Upper couple Joanna and Chip Gaines announced that they would be coming back to the small screen, this time by launching an entirely new network.
The HGTV stars make their big announcement on the The Tonight Show Starring Jimmy Fallon on Friday night, explaining that the whole deal has been under wraps for contractual reasons, but that they are extremely excited to get underway.
"We signed a non-disclosure and it said quote unquote you can tell your mother but that's it," Chip said on the show to a wave of applause. "So mom, I just wanted to make a quick announcement: we are coming back to television. You are going to get to see the kids grow up, you are going to see us, well maybe a six-month delay like the rest of the world, but we are excited to be back."
"We learned a lot during the five-year-process of Fixer Upper, and I think some of the things that caused us the most problems, we've concluded, we think we've figured some of this out. We've actually partnered with… Discovery, we're actually going to have a network, and I think we're really going to carve it out in a way that really makes sense to us and our family."
He added that it would be filmed a lot in Waco, Texas, where the family lives, to cut down on travel.
"We could not be more excited."
Separately, People talked to Magnolia spokesman John Marsicano, who confirmed that while the details are still getting ironed out, a Magnolia-branded network was in the works with Discovery, the mass media company that also owns channels like Animal Planet and TLC.
"We're excited to share that we are currently in the early stages of talking with Discovery about a lifestyle-focused media network for Magnolia," Marsicano said. "The details surrounding this opportunity remain a work in progress, but together, our hope is to build a different kind of platform for unique, inspiring and family-friendly content."
Discovery also released their own statement about the show, which includes a few details about what the network might be like:
"The Gaineses are exceptional people, true authentic storytellers, and creative visionaries who will nourish millions of people with quality, family-friendly programming accessible on a 24/7 network and across all screens. Stay tuned…working out the final details…more to come soon!"
The Gaines family wrapped up the fifth season of their popular home renovation show, Fixer Upper, in the spring of 2018, to the deep sadness of their growing fanbase. While the Waco, Texas, couple loved the show, they explained that, especially after adding a surprise fifth child, Crew, to their family.
sc
"The show was amazing and we are so thankful for it, but it's also a whirlwind where, if you are not careful, it will flat run you over," Chip told People in a cover story that ran in October. "You can't believe how out of gas you are." Still, they never wrote off the possibility of returning. "We never rule anything out and we're go-getters. We love to live life to the fullest and sometimes the journey is unexpected to say the least."
"After five years, we just wanted to take a step back and focus on our marriage and focus on our family," Chip tells Fallon. "Just kind of catch our breath."
Although the couple stopped their show, they never stopped expanding their empire. They have a huge list of businesses and projects, including a quarterly lifestyle magazine, a product line at Target, a restaurant, books, and vacation rentals.
Looking at the list, it seems like maybe a television network is the one thing they didn't have yet.
This article was originally published on