I Cherish My Friendships, But I'd Rather Spend Time With My Family Than Anyone Else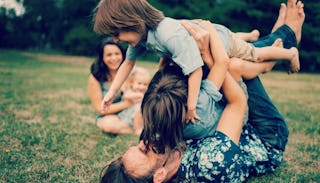 Shutterstock
I like my family. I will choose to be with them over anyone at just about any time.
After all, I spent a lot of time and energy choosing the guy who I wanted to take this whole ride with, and he's the person I like the most on the entire planet. In addition, I have also spent a lot of my time and energy making sure that my kids are the kind of people who I want to hang out with too. We're definitely all a work in progress. But…
I will always choose them.
I often choose them over going out for drinks with real live adults because Friday night is Project Runway Junior and popcorn night at my house, and yes, we are as dorky as they come.
I often choose hanging out with them on a Saturday morning rather than hitting brunch with girlfriends. This is because I just spent all week schlepping my kids from one place to another and telling them to pick up their clothes and do their homework and say polite words and…I just want to enjoy them for one nanosecond before I have to shove them out the door again.
I sometimes choose them because, let's face it, I have to wear pants when I'm with friends.
I choose to go on vacation with them because, even at their most whiny and annoying, I get them. I know who's hangry and who's had too much sugar and who really just needs to buck up. And yes, it's often me. I know that there is one of us who is not allowed to take their shoes off in the car and that another one has to eat within seconds of waking up. We know each other's rhythms and nuances and quirks as if they were our own.
I choose them because they are exactly what I had been hoping for even when I didn't know what I was hoping for.
I choose them because they get me. I'm cheerful and obnoxious in the morning, and I usually fall asleep halfway through the movie at night. They know that peanut butter cups are my favorite, and that I'm an anxious mess of a helicopter mom when they're swimming, and that I don't like to be cold, and that I'm cranky when surrounded by clutter. They know all of my faults, and they still love me.
I choose the three of them because, despite their really long-winded jokes, their sticky, smelly faces, and their loud, off-key renditions of "Take Me Home, Country Roads," they are more entertaining to me than any concert or fancy play or grown-up film in the movie theater.
I choose them because, damn, this time is going by fast. I blinked. He's 10. I blinked. She's 5. I'm really afraid to blink again. I'll just be standing over here with toothpicks propping open my eyelids, thanks.
I choose them because we can have fun together traveling and skiing and doing all the busy stuff, but we can also be content with being completely and totally slothful together. Those days are sometimes my favorite. Those lazy, dozy days when we blow up an air mattress and pile on each other like puppies with movies and books and snacks. I will choose that day any day.
I choose them because they choose me right now too — for at least a while longer. You know, until they get their driver's licenses and then they will choose everything in the entire world but me, and okay, I'm maybe going to cry now.
I choose them because they are mine. Just like everyone else, our family dynamics aren't always perfect or easy, but we are in it together. They are mine.
So I'm sorry to anyone out there if I miss some stuff. I will probably miss a lot of stuff. You see, I only have this short amount of time to choose these little people because soon they aren't going to choose me. I'm really going to try not to miss a single moment of it.