Chris Evans Is The Perfect Buzz Lightyear In New 'Lightyear' Trailer
by Valerie Williams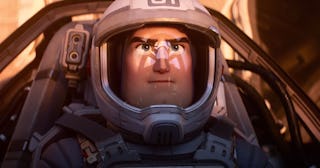 Pixar/Youtube
Chris Evans stars as Buzz Lightyear in the iconic character's origin story
Are you ready to be weirdly emotional over Buzz Lightyear? Prepare yourself for a flood of tears because the teaser trailer for the Pixar character's origin story Lightyear is here. It stars Chris Evans in the titular role and it honestly looks incredible.
Pixar just released the trailer this morning and instead of Buzz being a toy, he's an actual "real" astronaut whose exploits inspired the Buzz Lightyear toy line depicted in the Toy Story movie franchise. Remember how Buzz seemed kind of lost in that first film describing his mission from Star Command? You guys, he wasn't kidding — he really was an astronaut and why is this making me ugly-cry? Watch the trailer and see what I mean.
We see a younger Lightyear embarking on what looks to be a daring mission for Star Command. He boards the space shuttle while the David Bowie tune "Starman" plays and we see Buzz encounter new planets while learning the ins and outs of space travel. In the trailer's final seconds, we see him staring at his green and white space suit, obviously iconic to viewers of the Toy Story films.
If you still have questions about the new film's premise, allow the film's director Angus MacLane to explain a few things. "'Set in the world of Toy Story' is kind of weird. Another way to get at it, it's a straightforward sci-fi action film about the Buzz Lightyear character," MacLane tells EW. "In the Toy Story universe, it would be like a movie that maybe Andy would have seen, that would have made him want a Buzz Lightyear figure."
"The movie doesn't end and then you see Andy eating popcorn," MacLane says. "This is its own thing… This is standalone. It's the Buzz Lightyear movie. It's that character but as the space ranger, not as the toy."
For his part, Evans is thrilled to be playing the role. "The phrase 'a dream come true' gets thrown around a lot, but I've never meant it more in my life," Evans said in a statement. "Anyone who knows me knows that my love for animated films runs deep. I can't believe that I get to be a part of the Pixar family and work with these truly brilliant artists who tell stories unlike anyone else. Watching them work is nothing short of magic. I pinch myself every day."
Tim Allen voiced the character in all four original films starting with Toy Story in 1995 and ending with 2019's Toy Story 4. In fact, Allen shared an emotional message with fans at the wrap of that last movie and if you felt like you didn't have enough Buzz in your life, this new installment should bring you great joy.
Tom Hanks, who starred as Woody in all four films, also shared his big emotions as the cast finished the last of the movies.
For those of us who saw the first movie in theaters and then got to share all four films with our own kids, this is a pretty big deal. Sadly, if you can't wait to see Captain America himself go to infinity and beyond, you're going to have be patient — the movie doesn't hit theaters until June 17, 2022. In the meantime, join me in bingeing all four original films so we'll be ready for whatever new adventures Lightyear brings to the screen.