Chris Hardwick Promptly Fired From Talk Show Following Abuse Allegations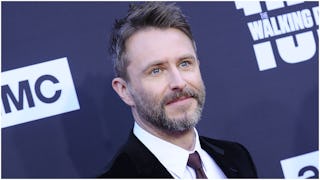 Image via Jason LaVeris/Getty
Chris Hardwick is facing immediate professional repercussions in light of abuse allegations
Last week, actress and cosplayer Chloe Dykstra released an essay on Medium about her abusive and controlling ex-boyfriend. She didn't name him, but it became quickly clear that she was referring to comedian Chris Hardwick. Backlash has been swift, and Hardwick is already facing a whole lot of consequences.
AMC pulled the plug on Hardwick's show Talking With Chris Hardwick over the allegations and also canceled his appearances at two upcoming panels.
"We have had a positive working relationship with Chris Hardwick for many years," the network said in a statement. "We take the troubling allegations that surfaced yesterday very seriously. While we assess the situation, 'Talking with Chris Hardwick' will not air on AMC, and Chris has decided to step aside from moderating planned AMC and BBC America panels at Comic-Con International in San Diego next month."
Hardwick's NBC game show The Wall is also hanging in the balance. The network released a statement saying that they will "assess the situation" before filming begins.
"These allegations about Chris Hardwick took us by surprise as we have had a positive working relationship with him," a rep from NBC explained. "However, we take allegations of misconduct very seriously. Production on The Wall does not begin until September, and in the meantime we are continuing to assess the situation and will take appropriate action based on the outcome."
Hardwick has denied all of the allegations, and released a statement saying that he was "heartbroken" to read Dykstra's post.
"When we were living together, I found out that Chloe had cheated on me, and I ended the relationship," he said. "For several weeks after we broke up, she asked to get back together with me and even told me she wanted to have kids with me, 'build a life' with me and told me that I was 'the one,' but I did not want to be with someone who was unfaithful."
The comedian went on to add that he was "devastated" by the accusations. "I was blindsided by her post and always wanted the best for her," Hardwick wrote. "As a husband, a son, and future father, I do not condone any kind of mistreatment of women."
His statement didn't quite read as genuine to a large chunk of the internet. Namely, you can't cite the fact that you might someday be a father as proof that you won't mistreat a woman. That really, really doesn't make sense.
Meanwhile, Dykstra said that she wrote her Medium post because she's hoping for "closure." She explained that she spent three years with a man who reportedly sexually assaulted her, put extreme restrictions on her life, and blacklisted her from the industry when things didn't go well between them.
She also had an important message for Hardwick.
"A sincere and heartfelt apology could have made my last four years a hell of a lot easier. The person I used to date would try to sue me due to pride- I would not recommend it," Dykstra wrote. "I have audio/video that will support and prove many of the things I've stated in this post. I've chosen not to include it for your sake, in the hopes that the person you've become will do the right thing."