Chris Hardwick Is Returning To AMC's 'Talking Dead' After Sexual Abuse Allegations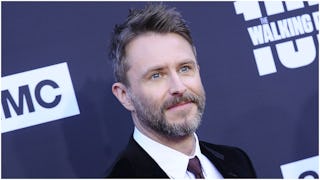 Image via Jason LaVeris/Getty
Chris Hardwick returning to AMC show after sexual abuse allegations
In June, actress Chloe Dykstra penned a heartbreaking essay about the physical and emotional abuse that her ex-boyfriend Chris Hardwick allegedly inflicted on her. There was an internet uproar, Hardwick was temporarily suspended from his AMC show Talking Dead, and removed from panels at Comic-Con. Then, just a little over a month since the allegations surfaced, Hardwick was reinstated as host of his AMC show.
Yup, I'm staring at the screen incredulously too.
The network announced that they had investigated the claims made in Dykstra's essay and decided that Hardwick should return to the screen on August 12th.
"Following a comprehensive assessment by AMC, working with Ivy Kagan Bierman of the firm Loeb & Loeb, who has considerable experience in this area, Chris Hardwick will return to AMC as the host of 'Talking Dead' and 'Talking with Chris Hardwick.'" AMC said in a statement. "We take these matters very seriously and given the information available to us after a very careful review, including interviews with numerous individuals, we believe returning Chris to work is the appropriate step."
Just as a refresher, Dykstra dated Hardwick for three years. In her essay, the actress details some horrific emotional and sexual abuse allegations. She wrote that the talk show host set rules for her in the beginning of their relationship, which included: not taking pictures of the two of them together, not going anywhere at night, and not having male friends. Oh, and one other gem.
"I was not to speak in public places (elevators, cars with drivers, restaurants where tables were too close) as he believed that people recognized him and were listening to our conversations," Dykstra recounted. "Our dinners out were usually silent, him on his phone."
It only got worse from there. Dykstra alleged that she had a curfew and would get screaming voicemails if she didn't answer his calls. She alleged that he would guilt her into having sex with him, even when she cried throughout. She alleged that he successfully blacklisted her from companies she worked with after she temporarily left him. That's just the beginning of a whole laundry list of awful, awful things Hardwick reportedly did.
The talk show host denied the allegations.
"I'm devastated to read that she is now accusing me of conduct that did not occur," he said in a statement. "I was blindsided by her post and always wanted the best for her. As a husband, a son, and future father, I do not condone any kind of mistreatment of women."
Well, looks like Hardwick is going to get to return to television with literally zero repercussions. Meanwhile, Dykstra has — hopefully — found some level of peace from finally sharing her heartbreaking story publicly.
"This story, post, whatever this is, serves as both closure for me as I say farewell to my twenties and stumble my way into my thirties," she concluded her essay. "And it serves as a warning for every single one of you, regardless of gender. Please, please, keep an eye out for those red flags."