Fans Want Chris Harrison Fired From 'The Bachelor' After Another Racism Scandal
by Christina Marfice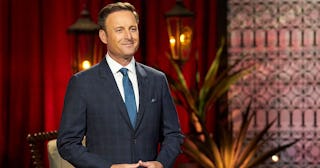 Craig Sjodin/ABC
Bachelor fans want Chris Harrison to finally face some accountability after years of sweeping racist incidents under the rug within the show's ranks
For fans of The Bachelor, the escapism that comes with watching the show is starting to clash with reality in a big way. After years of allegations of racist behavior within the show's ranks, as well as incidents of contestants' racist behavior in public and on camera being swept under the rug, calls are intensifying for ABC to finally do something about it. One thing many fans want? Some accountability for Chris Harrison, the show's host and executive producer.
Harrison is under fire this week after he spent an excruciating 13-minute interview with Rachel Lindsay, the show's first Black lead, gaslighting her and excusing the racist actions of Rachael Kirkconnell, a contestant on the current season.
When discussing pictures that resurfaced of Kirkconnell attending an Antebellum themed fraternity formal in 2018, Harrison responded to Lindsay's comment that it "wasn't a good look" by saying, "Well, Rachel, is it a good look in 2018? Or, is it not a good look in 2021? Because there's a big difference."
Lindsay responded, "It's not a good look ever, because she's celebrating the Old South. If I went to that party, what would I represent at that party?"
Harrison's response to that?
"I don't disagree with you. You're 100 percent right in 2021. That was not the case in 2018. And again, I'm not defending Rachael. I just know that, I don't know, 50 million people did that in 2018? That was a type of party that a lot of people went to. And again, I'm not defending it. I didn't go to it."
Harrison has since apologized for that interview. In a statement posted to his social media, he said he was "simply" asking for "grace" for Kirkconnell.
"What I now realize I have done is cause harm by wrongly speaking in a manner that perpetuates racism, and for that I am deeply sorry," he wrote, adding a personal apology to Lindsay at the end.
In response to Harrison's statement, the BIPOC women from the current season of the show put out a statement of their own, condemning the way non-white women are treated on The Bachelor and saying that they deserve the grace that Harrison is asking for for Kirkconnell.
This is far from the first time Harrison has been accused of sweeping racism under the rug during his 18-year tenure on the show. In 40 seasons, Lindsay was the only Black lead to be cast before this season, with Matt James in the starring role. The franchise has been accused of casting James as a "knee-jerk reaction" to last summer's racial justice protests and a petition from fans that garnered 80,000 signatures asking for the show to finally cast a Black male lead.
Now, fans are circulating another petition, this time calling for Harrison to be removed from the show. Some of the franchise's biggest and most outspoken fans, the moderators of The Bachelor subreddit, have shared the petition and called for Harrison to finally face some accountability.
"The moderators of this sub are disgusted by the recent interview between Rachel Lindsay and Chris Harrison," they wrote. "Using a black woman's platform to shield Rachael [Kirkconnell] and advocate that racism should be given 'grace' is beyond words. It is past time this franchise take REAL ACTION to denounce racism and white supremacy and this sub provides a platform to call for change."
So far, more than 30,000 people have signed the petition asking for Harrison to be removed. He has not commented on the petition.
This article was originally published on