Chris Hemsworth Responding To His 4-Year-Old Daughter's Request For A Penis Is All Of Us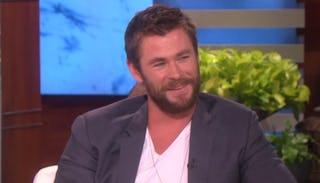 Chris Hemsworth revealed his awesome response when his daughter asked for a penis
Kids say the darnedest things, and one of the funniest and most challenging parts of being a parent sometimes is figuring out what to say back. Lucky for Chris Hemsworth, he fumbled his way to the perfect response when his four-year-old daughter told him she wants to have a penis just like her brothers.
In a recent interview with Ellen Degeneres, Hemsworth talked about his new movie, The Huntsmen: Winter's War, and the strong female role models he wants his daughter, India Rose, to have. Right now, the four-year-old is a big sister to Hemsworth's two-year-old twin boys, and he revealed there's a bit of unexpected sibling rivalry going on. "My daughter is kind of envious of my boys at the moment," he said. Why's that, you ask? Well, it turns out what the little girl wants more than anything is… a penis.
"She came to me the other day and she was like, 'You know, Papa, I want one of those things that Sasha and Tristan have," Hemsworth told Ellen. "I'm like, 'What do you mean?' And she said, 'You know, the things in between the legs that you have.'"
Hemsworth says he explained to his daughter that she has breasts and a vagina, but she cut him off by shouting that she doesn't want breasts. "She goes, 'Like I really want one.' I was like, 'A penis?' She was like, 'I want a penis,'" says Hemsworth. The actor stumbled a bit but then decided to just handle it like anyone should. "I was like, 'You know what, you can be whatever you want to be,'" he said. "And she goes, 'Thanks, Dad!' Runs off to the playground and that was it."
Hemsworth's story is adorable not just because he was totally cool about his daughter's curiosity, but also because every single one of us has had conversations like this with our kids. My daughter is also four, and she's already tried to pee standing up ("just like daddy"), told me she never wants go grow "big bumps" (breasts) like me, and asked why she doesn't have a "long finger in my pants that I pee with." Oh, she also thinks the words "butt" and "vagina" are interchangeable. It's all so confusing, right?
Kids are endlessly fascinated with gender, body parts, bodily functions, and why other people look different than they do, and we teach them a lot in these silly little conversations. In simple answers, we have the power to make kids feel comfortable expressing themselves and give them the important message that everyone has the freedom to be who they want to be. There are some parenting moments you never see coming, but as Hemsworth's answer shows, keeping conversations light and full of love is always the way to go.