Here's A Picture Of Chris Hemsworth And A Koala Bear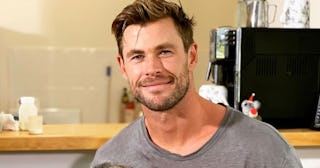 Chris Hemsworth/Instagram
Chris Hemsworth holding a koala is what you need to start today off on the right foot
Keeping up with the news hasn't been the most comforting or optimistic activity lately. The novel coronavirus is continuing its deadly global spread, with numbers of cases beginning to rise sharply in the U.S. The presidential election is heating up, and that means candidates are being pretty vicious to one another in an attempt to secure their party's nomination. Amid all the depressing and downright scary headlines lately, you need something good to balance it all out. So here. Look at this photo of Chris Hemsworth holding a koala bear. Go on. You deserve it.
Hemsworth posted the photo from his visit to Friends of the Koala, a nonprofit community group dedicated to protecting and conserving koalas and their habitat in New South Wales, Australia. New South Wales was the region of the country that was hit hardest by this season's deadly and devastating wildfires, which left as many as one billion animals dead or without their habitats. Koalas were definitely among the animals affected by the fires.
Hemsworth has been vocal on his social media prior to this about supporting Australia during and after the fires. He has focused on koalas in particular, raising money through multiple nonprofits and fundraising campaigns to help the furry little dudes recover their lives and their habitats. It's clear Hemsworth has a soft spot for these tiny animals, and somehow it makes us love him even more.
Hemsworth and his family have also contributed plenty of their own funds to organizations helping with brush fire relief in Australia. Back in January, when the fires were at their worst, he announced that he and his family would pledge a combined $1 million, and challenged other celebrities to do the same.
Many ended up following suit, and the money given by these celebrities no doubt helped encourage others to donate time and money as well. It's truly been a global effort to support Australia through this crisis, and Hemsworth has been leading the charge the entire way.
Now if we can just humbly request more pictures with koalas, that would be great.