Break Up The Quarantine Boredom By Watching Chris Hemsworth Exercise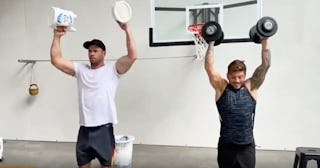 Chris Hemsworth/Instagram
Chris Hemsworth may have intended his video to encourage us to work out from home, but LOL, that's not happening
Social distancing and quarantine are definitely starting to take their toll, especially for those of us who have been ordered to shelter at home for more than a week now. The fear and anxiety over coronavirus keeps mounting, and the stir-crazy feelings of being cooped up during all of this are definitely getting harder and harder to ignore. So here's what I suggest you do today to break up the monotony of quarantine for a few minutes: Watch Chris Hemsworth work out.
Since gyms are obviously closed basically everywhere, Hemsworth thought he'd do his part and post some workout videos on social media, with the intent that viewers at home could follow along and get their sweat on. He's offering his health and wellness app Centr for free for six weeks if you sign up before March 31st, which is awesome. Except that most of us haven't worn pants in days, and I can only speak for myself on this one, but I haven't had a meal that wasn't primarily carbs in at least a week. Working out? I don't know her.
https://www.instagram.com/p/B-QjdxTpxsA/
Watching Chris Hemsworth break a sweat, however? Sign me right up. Excuse me for a moment while I try to figure out how to display Instagram on the living room TV so my roommate and I can just make a day of this.
Heck, I'm gonna have a cupcake and eat that while I watch. Who cares that it's 10 a.m.? This is day nine of my quarantine and life is airport rules now. If the only thing we have to break up the day is three minutes and 12 seconds of Chris Hemsworth's glistening workout abs, we gotta enjoy that to the fullest, you know what I mean?
While Hemsworth may not have intended for his free home workout to become a thirst video, he does have a real record of doing great things during a crisis. He was well-known for his multiple campaigns to raise money for wildlife and other relief efforts during the devastating wildfires in Australia earlier this year. A do-gooder who wants to help us workout while quarantined? Sign us up.
This article was originally published on