Here's What Chris Pratt Texted Anna Faris After Proposing To His Girlfriend
by Valerie Williams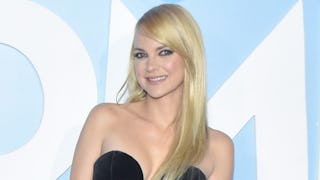 Image via Carlos Tischler/Getty Images
Anna Faris had the perfect reply when hearing about her ex's engagement news
If you're looking for signs of bitterness and animosity between former spouses Anna Faris and Chris Pratt, you'll be sorely disappointed. By all accounts, the exes and parents of six-year-old son Jack are on extremely good terms. So good, in fact, that when Pratt let his ex-wife know that he was newly engaged, her response was full of nothing but love.
Seriously, these two are peaceful co-parenting goals.
It would be easy for an ex to harbor ill feelings or be jealous when their former partner moves on, but there's none of that for Faris and Pratt after he told her the big news of his engagement to girlfriend Katherine Schwarzenegger. On a recent episode of her podcast, Anna Faris Is Unqualified, she told her listeners how it went down.
"Chris texted me this morning and he was like, 'I proposed to Katherine last night.' And I was like, 'Ahh, that's amazing,'" she recounts. And because she's hilarious as well as incredibly gracious and good-natured, Faris said, "And I texted him back like, 'I just wanted to remind you I'm an ordained minister.' I'm not very good at it …"
She didn't even stop there. It's clear these two still love and respect each other — and wish only for the other to be happy. "I'm so happy for them," she said. "I knew that it was gonna happen and I love her and I love him and I'm just so happy that they found each other."
Because Pratt is her son's father. It makes total sense that she wants him to be happy so Jack has a happy dad. Our hearts.
From all accounts, that love between all parties is very real. After all, Faris, Pratt, Schwarzenegger, and Faris' partner Michael Barrett all went together to take Jack trick-or-treating last fall. The group is clearly committed to the little guy's stability and happiness, which is wonderful.
In an interview with Women's Health last year, Faris explained the philosophy she and Pratt share. "What Chris and I try to do is communicate openly," the Mom star said. "We reiterate that there aren't rules to this. We have a lot of love and friendship and our big goal is to protect Jack. I cherish my family, my close friends, my child — that makes the rest of it worth it."
To even further drive home the great vibes between Jack's mom and dad, Faris was sure to congratulate the couple on Pratt's Instagram post announcing that he and Schwarzenegger were engaged.
This is the age of social media, and one day, Jack will be old enough to navigate the 'net by himself, and the way his parents treated each other in the wake of their divorce will be on full display. It's sweet to see that both parents are making sure that their kiddo will only see stuff like this — his mom and dad happily going their separate ways and supporting each other throughout. Of course, it's not always possible to maintain such good relations between exes, but if parted parents are still able to peaceably co-parent, that's a huge win for their children.
Jack is a lucky little guy to have not just two, but four parent figures in his life who love him enough to make sure there's no drama. Anna and Chris are basically killing it in the post-divorce co-parenting department.