Chris Rock Went Full-Parent At The Oscars, Sold Girl Scout Cookies For His Daughters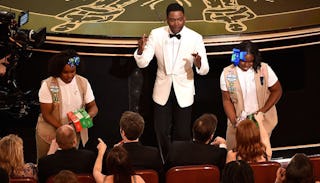 Chris Rock used his Oscars hosting gig to sell Girl Scout cookies for his kids
Girl Scout cookie season is the most annoying time of the year for a lot of parents, so you might be jealous when you see what Chris Rock did to bulk up his daughter's sales. He used the stage at the Oscars last night to get all of his filthy rich celebrity friends to make his daughter the cookie selling queen of 2016.
During the broadcast, Rock joked that hosting the Oscars was really taking a toll on his home life — particularly when it comes to his two daughters, Lola and Zhara. "I've been away from my two daughters at a very important time in their life," quipped Rock. "I have missed most of Girl Scout cookie season." Oh, the horror.
Rock said his youngest, Zahra, called him the night before and guilted him by asking why she never sells the most cookies — apparently she loses every year to an overachieving troop mom named Linda Dunn — and that's when he came up with a brilliant plan. Rock implored his superstar audience to dig deep into their fat wallets and buy some damn Thin Mints from his daughter. "It would mean so much to my little girl if we could beat Linda Dunn," he said. "I want you to reach into your millionaire pockets and I want you to buy some of my daughter's girl scout cookies."
At that point, a troop of Girl Scouts poured into the theater, dressed in full uniform and hawking boxes of cookies. Rock stood at the front of the room like an auctioneer, calling out celebrities by name and pushing sales as they dug through their fancy designer bags for cash. "Alright, Tina Fey, get that money, girl," he yelled. "Charlize Theron, yes. Matt Damon, yes. Leo, you made $30 million—come on!"
And you know what? It worked. We found out Mindy Kaling likes Samoas.
Christian Bale is apparently a Thin Mint guy. Look how many cookies he has in his mouth. No shame — that's the way Girl Scout cookies were meant to be eaten.
Rock even posted a video on his Instagram account saying Vice President Joe Biden gave him twenty bucks for cookies. No word on which cookie flavor gets Biden's endorsement.
Later in the show, Rock returned to the stage with the Girl Scouts and revealed that he'd made a cool $65,234 for his daughter's troop. As People reports, that's enough to buy 16,000 boxes. Apologies to poor Mrs. Dunn on having her sales record annihilated, but at least she's probably got a few boxes of cookies lying around so she can snack away the sadness.
Rock may be an A-list celebrity and one of the most celebrated comedians of our time, but at the end of the day, he's just another parent hassling his coworkers with a Girl Scout cookie order form. It just goes to show that no one is immune to the fierce competition of cookie season, and even more importantly, no one — not even beautiful celebrities — can say no to a box of delicious Girl Scout cookies.
This article was originally published on