Chrissy Teigen Asked AOC Over To Her House For A Grammys Watch Party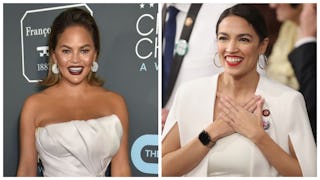 Image via Getty/Jeff Kravitz/Win McNamee
Chrissy Teigen invited Alexandria Ocasio-Cortez to watch the Grammys with her and the congresswoman said yes
Alright, prepare for an overload of your two favorite women. Chrissy Teigen (our favorite Twitter comedian/cookbook legend/supermodel) invited Alexandria Ocasio-Cortez (our favorite congresswoman/Instagram stories legend/also pretty solid Twitter comedian) to watch the Grammys with her. And the congresswoman agreed. Suffice to say, the internet exploded with happiness.
It all started when Teigen tweeted Ocasio-Cortez with a very important invitation. "@AOC hello my hero, do you wanna come over and watch the grammys with us? there will be pizza," she asked. A few hours later, the congresswoman RSVPed. "Yes! we can live-tweet me burning something in the kitchen," she wrote.
And thus, a new dynamic duo was born and the internet momentarily became a purer, happier place.
Also, Teigen reassured Ocasio-Cortez that she wouldn't be the only one messing up in the kitchen. "Perfect!" she responded to the congresswoman. "We have extremely different strengths except I still sometimes burn things."
Oh yeah, and then Jesse Tyler Ferguson hopped in to let Ocasio-Cortez know that she could eat his portion of pizza, and this Grammys gathering is officially shaping up to be the all-stars party of the century.
Now all we need is all the other women who won the House to head on over to the Teigen/Legend residence (preferably rocking those pantsuits and hoops).
The rest of the Twitterverse approved big time. Many noted that a Teigen/Ocasio-Cortez combo is something they never knew they needed but now they want it so, so badly.
Others wanted a livestream of this hang out. Non-negotiable.
And everybody wanted an invite.
Teigen isn't the only celebrity who is completely awestruck over Ocasio-Cortez. After the 29-year-old surprised so many people by snagging the Democratic nomination and unseating 10-term incumbent Joe Crowley, stars took to Twitter to cheer her on.
"Congratulations to @Ocasio2018 Just when you think it had been the shittiest day possible for our democracy, she shows us how to never give up," Adam Scott tweeted.
"Waking up to this woman gives me a lot of hope for the future of our party and for the future of our country. @Ocasio2018," Chelsea Handler chimed in.
"¡OCASIO! For the future!!! New York I'm so proud!" Emmy Rossum tweeted.
And it's not just the celebrities who are Team Ocasio-Cortez. The congresswoman's name plaque outside her office in Washington D.C. is literally covered in stickie notes from supporters.
"We're feeling the love out here," Ocasio-Cortez tweeted in response to all of the kind messages. "Thank you everyone for your supportive gestures – it makes a huge difference, and the positivity helps our whole team stay courageous."
I guess the moral of this story is that a lot of people in this country are really, really excited about Alexandria Ocasio-Cortez. And a lot of people are also really, really excited about the congresswoman hanging with Chrissy Teigen. Again, the livestream is non-negotiable.