Chrissy Teigen Shares First Pic Of Her Adorable Baby Bump On Instagram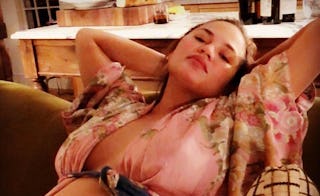 Image via Instagram/Chrissy Teigen
Teigen shared a gorgeous bump pic while enjoying a 'girl's weekend'
Chrissy Teigen is slaying the pregnancy game, because of course she is. She recently shared the first photo of her full-on baby bump during a girl's weekend with friends, and she looks amazing.
Lounging on the couch in the graceful way only a model can, Teigen posed for a photo while wearing a silk robe and showing the world her beautiful bump.
Teigen, who is expecting her second child with husband John Legend later this year, hasn't revealed the sex of the new baby who will soon join adorable big sister Luna.
Like they did with Luna, Teigen and Legend conceived their second child via IVF. She told People the couple knew they were pregnant just 11 days after their treatment.
"You get the phone call and you're like, 'Please, please, please,' and then you get the result and then you're so excited," she said. "It does make for a very long-feeling pregnancy because you know so early."
Teigen is basically the celebrity mom BFF we all wish we had in real life. When she's not hilariously clapping back at Twitter and Instagram commenters, she's being candid and real about her own struggles with postpartum depression. Or letting everyone know she's familiar with the struggle that is Pregnancy Face.
What we all love about Teigen so much is sure, she's beautiful and her lifestyle is beautiful but she's not afraid to keep it real and let us all see different ways she's One Of Us.
Except I know I don't look that good when I'm lying on the couch. Time to step up my lounge game!