Watch Chrissy Negotiate With Luna In 'Candy Court'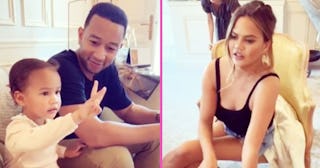 Chrissy Teigen via Instagram
Ahead of her new small claims courtroom reality television show, Chrissy Teigen played judge and jury with her daughter Luna
Chrissy Teigen, one of the only celebrity moms who truly seems to keep it real, did just that this morning, when she held 'candy court' with her three-year-old daughter Luna. How much candy was Lung going to get? Well, let the negotiations begin.
"I now call to order the meeting of the candy," Teigen opens, using a makeshift gavel. "First off, Luna, I'd like you to speak. Tell me why you deserve the candy."
"I want the candy cause I want it and I like it."
The negotiations are something that all parents experience with their kids, especially when it comes to junk food, but for Teigen, this is definitely also practice for her new gig as a reality television judge. Her new show, Chrissy's Court, will feature the model, author, and social media maven settling petty claims in her own courtroom. The show is set to run on Quibi, a mobile video subscription service, with each episode running shorter than ten minutes or so. It doesn't have a premiere date yet — although we do know that Teigen's mom will serve as bailiff.
Meanwhile, 'candy court' continued, with mom and daughter shooting back and forth at each other about what will happen if candy is indeed distributed to Luna.
"I need a really good reason as to why you need the candy," Teigen says. "What are you going to do if give you the candy?"
"Eat it!" Luna responds, emphatically. Which, we feel her.
"No, I mean, are you going to be good," Teigen asks, laughing. "Are you not going to scream during your sleep? Do you promise?"
"Yeah, I promise!"
In a second video, they move away from whether or not candy will be eaten, and into exactly how much candy we're talking about.
"Let's go into negotiations now," Teigen says. "How many pieces of candy? I say one."
"I say three."
"What about one?"
"No, I want three," Luna counters.
What about two?
"Yes!"
Finally, negotiations are complete, and the room bursts into cheers, including proud husband and dad John Legend.
The family of four is currently on a private vacation in Paris, where they've taken to the streets by day and stayed in a posh French hotel at night. Earlier this week, Teigen shared a shot of everyone out and about, with the simple caption, "bonjour!"
Legend also shared a picture on Instagram, of him and his daughter taking to the street of the city, with matching shades. "Luna's in Paris," he wrote.
And another of the entire painfully adorable fam.
They've been seeing some sights — Teigen's mom, who often travels with them, shared pictures of a visit to the Louvre, complete with adorable photos of Luna being more interested in her stuffed unicorn than in the Mona Lisa. And, hey, we kind of get that.
The family better rest up. It's going to be a busy summer for all of them. In addition to the courtroom reality show, Teigen also has a two-year television deal with Hulu in the works, which tentatively includes a cooking show called Family Style. We hope there's candy involved.
This article was originally published on