Chrissy Teigen Posts Pic Of Herself On Father's Day And Fans Aren't Happy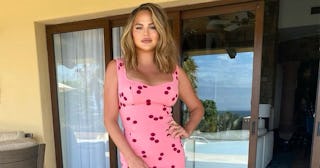 Chrissy Teigen/Instagram
Some felt her post was a dig on her battle with designer Michael Costello
It was Father's Day yesterday, and as we all scrolled through our feeds to see adorable and heartwarming posts about the dads in our lives, Chrissy Teigen followed her Father's Day tribute to husband John Legend with a picture of herself. Her fans, it seems, weren't quite ready for that, given this past month's events.
The mom-of-two posted a picture of herself with the caption, "celebrating lurrrrrve. congrats to my sister and her fiancé Michael!" Then, she added: "also this is like a totally important designer!!!!," which left people feeling as if she was fanning the flames of her recent public dispute with designer Michael Costello.
Costello took to Instagram to share a now-deleted post about being bullied by Teigen via DMs to the point he considered suicide, messages that she and Legend are now calling "completely fake." Teigen claimed the screenshots of the DMs from 2014 are "fictional," telling fans that not only was Teigen's account misspelled but that the screenshots couldn't have been from 2014 because of some of the Instagram features being used.
While that drama plays out, fans didn't seem to appreciate Teigen's apparent slight of Costello:
Teigen made headlines over the last month with accusations of bullying Courtney Stodden when they were a teen. Stodden made headlines in 2011 when they, at 16 years old, married 50-year-old acting coach Doug Hutchison. Stodden was constantly slut shamed and made fun of in the media even though they were just a child in an abusive marriage. Teigen told them to "kill themselves" and, while she has since publicly apologized, many of her fans are still upset.
"She wouldn't just publicly tweet about wanting me to take 'a dirt nap' but would privately DM me and tell me to kill myself. Things like, 'I can't wait for you to die,'" Stodden explained in their interview with the Daily Beast.
Teigen took a break from social media for about a month after the fallout but has been posting recently. A move, for some, seems to be a bit too soon. While the phrase she used ("also this is like a totally important designer") is a quote from the movie Clueless, it comes at a time when public silence about anything remotely related to her bullying anyone (real or not) might be easier to swallow.