Chrissy Teigen Gives Birth, Shares Baby Name
by Valerie Williams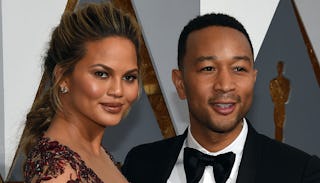 Image via Ethan Miller/Getty Images
Chrissy Teigen and John Legend are parents to a baby girl!
Glory be and the saints be praised! Our favorite pregnant celebrity is officially our favorite celebrity mom! Chrissy Teigen and husband John Legend welcomed their baby daughter this past Thursday, if her adorable Instagram post is any indication. They've released her name and of course, it's absolutely freaking adorable.
According to new dad Legend's Tweet this morning, Luna Simone Stephens is the newest celebrity baby for us to ooo and ahhh over. Teigen shared an image on Instagram of a hospital monitor listing out the infant's weight. She was born on April 14th, weighing 6 lbs., 11 oz. Unfortunately, there's no photo of the tiny tot yet, but we have no doubt she's going to be a beauty.
Teigen's Instagram post reads, "She's here! Luna Simone Stephens, we are so in love with you! And sleepy. Very sleepy."
I'll be the first obnoxious, experienced parent to say JUST YOU WAIT! Tired will become your new normal, even with that amazing night nurse the couple has planned. Being a new parent is exhausting no matter what, because your brain and heart are now consumed with worry, love, panic, joy and a million other things to keep you up at night. Welcome to our world, Chrissy.
And won't you please join our mommy group?
Teigen has made it clear over and over that she's the furthest thing from a "regular" mom and totally a "cool" mom. From the start, she's been open about her struggles to get pregnant in the first place and handily reminded the world why they should never ask a woman if she's going to have kids.
Throughout her pregnancy, she's sassily shot back at haters over her baby bump size, maternity wardrobe, marital status and the fact that she and Legend chose a female embryo to implant during their IVF procedure. She speaks her mind and gives no fucks — and that's why we love her.
We're eagerly anticipating tons of social media parenting hilarity from Teigen, as she's already said what we're all thinking about installing infant car seats, and the woman is flat-out hilarious at all times anyway. She doesn't hold back and it's highly entertaining. Her parenting commentary on Twitter and Instagram will surely make her a must-follow celebrity mom.
We can't wait to see little Luna's face and hear more extremely real shit from Chrissy as she navigates first-time motherhood.
Congratulations, Chrissy and John! And welcome, Luna!
This article was originally published on