Chrissy Teigen Uses Grammy Moment To Announce Sex Of Her Baby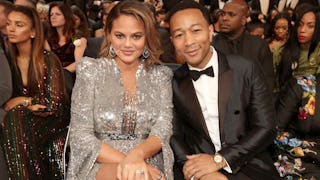 Image via Christopher Polk/Getty Images for NARAS
Teigen shared the gorgeous picture, finally revealing the sex of her baby
There were some stunning performances, memorable red carpet looks, and a few upsets during last night's Grammy Awards. But one of the sweetest moments came not at the show itself but on Instagram, where Chrissy Teigen shared a photo from the show to announce the sex of her baby.
Teigen posted the stunning picture of herself all dolled up for last night's Grammy Awards with the caption, "mama and her baby boy," giving fans the most exciting news since she announced her pregnancy.
The mom-to-be also used Instagram to let fans knows she was expecting in a similarly adorable fashion, letting daughter Luna steal the show. Of course she captioned the video with typical Teigen humor, saying, "It's Johns!"
The couple has been open in the past about their difficulty conceiving Luna, finally finding success using IVF. She has been vocal in slamming haters along the way who questioned whether she's even "tried naturally."
If you've followed their family, you may have already known Teigen was having a boy. During an interview with ET on the red carpet of the Producers Guild Awards last year, she was asked about the possibility of more children with Legend. "A little boy is next for sure," she said, then clarified further via social media.
During this pregnancy, the model and foodie has used social media to ask fans everything from "if it's normal to get bigger, faster" during your second pregnancy and for some assurance that her two-year-old wasn't the only a-hole out there. "I am having a very rough day and it would help me a lot if any moms would like to share stories of their kids being mean to them," Teigen wrote, to which thousands of parents collectively responded, "Yeah, kids suck sometimes."
It's clear from last night's photos that the adorable couple was having a blast, which is a good thing because they'll soon have a baby boy keeping them up at night. I'm thinking they probably can't wait.
Who else is looking forward to pictures of this little guy and all the hilarious stories that will come along with it?
This article was originally published on