Women Are Celebrating Their Grey Hair, Thanks To Chrissy Teigen
by Jerriann Sullivan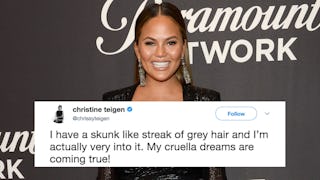 Image via Tara Ziemba/Getty Images/Twitter/Chrissy Teigen
Chrissy Teigen took to Twitter to discuss her grey hair
Model and Twitter super-user Chrissy Teigen recently used the social media site to share some great news: she's got grey hair! Celebrities, they're just like us.
While she's never rocked grey hair on the red carpet or on social media, we expect that may change soon. "I have a skunk like streak of grey hair and I'm actually very into it," Teigen wrote. "My cruella dreams are coming true!"
For the record, we are also very into streaks or full heads of grey hair. You've earned those grey hairs, ladies, and should rock them in whatever way you choose. Twitter users everywhere quickly jumped into Chrissy's feed with replies of support for her new look.
https://twitter.com/jetpack/status/955503407334215680
Don't you dare, husbands! It's entirely okay to dye your hair, but don't touch another person's mane.
Cruella de Vil was the worst, but she did have fabulous hair.
Get it, JoAnne.
Tons of other fabulous women shared pictures of their gorgeous grey hairs with Teigen, too.
Hold onto your ovaries because this grey-haired mama and baby duo is beyond cute.
If your grey hairs show up early to the party just do what this lady did: embrace them with a fun nickname.
And this mama of two.
Our personal favorites, though, have to be the ladies proudly rocking the full head of grey, excuse me, silver hair.
https://twitter.com/jetpack/status/955532890657447941
Embrace the grey, silver foxes, because you all look great.
This article was originally published on