Chrissy Teigen's Trick For Picky Eaters Is Extra AF And You'll Want To Copy It ASAP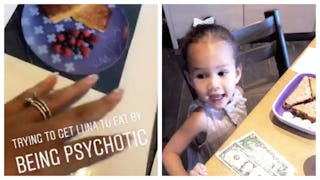 Image via Instagram/ChrissyTeigen
She laminated the menu — with pictures
If you've ever had a picky eater on your hands, you know the lengths you'll go through to get them to eat something — anything — the resembles a semi-healthy meal. Chrissy Teigen has long admitted it's impossible to get her daughter, Luna, to eat more than a handful of items. So, she took to Twitter this week asking for recommendations.
Her solution? It's extra AF and you'll want to steal it immediately.
"I always came from the mindset of 'eat what we serve or go to bed hungry' but I'm officially owned by my toddler, struggling to make a *dinner* luna likes aside from spaghetti and fish sticks," she lamented. "Any ideas welcome!"
But…but, Luna, your mom's a cookbook creator and all-around amazing chef, what gives? Turns out when you're dealing with toddlers, they could really care less and have zero problem telling you about it. Teigen continued:
Yep, she made a menu of choices, with pictures, for her baby girl to decide what she wants to eat omg I love this woman. But wait, there's more:
The menu is laminated in a binder. If you're like, "no way she actually did this," you would be wrong:
But then, the binder isn't the only thing Teigen's laminated:
Oh sweet Jesus, Mary, and Joseph she laminated the dollar bills — I thought my love for her had a limit. It doesn't.
Teigen has been vocal about the struggle of getting Luna, two-and-a-half, to eat her food. "She loves real food, but she will NOT eat my own food, which kind of breaks my heart," she told Rachael Ray on her show last year. "I take it personally!"
Of course, most people (who either don't have kids or are too old to remember all the times they caved with their own kids) think "just leave them be" and if they are hungry enough, they'll eat. But mealtime is stressful enough, having a child who will only eat a very limited diet is frustrating for all involved.
For someone who is so open about both the highs and lows of parenting, we appreciate the lengths this mom-of-two will go to make her kids happy. And we love her for all of it.