Chrissy Teigen's Reply To A Fool Who Asked If She's Done Breastfeeding Is Perfect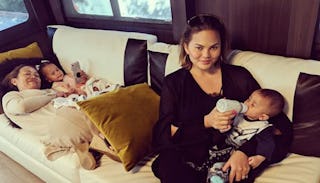 Image via Instagram/John Legend
She replied to the nosy fan in true Chrissy Teigen fashion
Everyone knows that you don't come for Chrissy Teigen — she sends for you. Our favorite celebrity mom never suffers fools lightly and has proven time and again that internet trolls who try messing with her will regret it. Her most recent shutdown of an annoying commenter was possibly her best ever — because the woman was ballsy enough to question the way Teigen feeds her baby.
And that judgy garbage should always be met with sass.
The cookbook author and model's husband, singer John Legend, shared a toothache-sweet snap on his Instagram account of his wife holding their infant son, Miles, while feeding him a bottle. THE HORROR.
Lol just kidding, getting upset over the way another mom feeds her baby is positively ridiculous and questioning her choice is both a huge party foul and incredibly rude. That's why we're loving Teigen's reply to a nosy fan who asked, "You no longer breastfeed?"
Teigen replied, "john never breastfed Miles." Because, hello, this isn't even her Instagram account, and a nonsense question deserves an equally nonsense response. Well. Played.
The Instagram account Comments by Celebs very helpfully screenshot the infuriating exchange, which is great, because now way more of the internet can see Teigen's brief (but effective) clap-back. Sure, the "concerned" fan didn't lob actual insults, but any seasoned mom who's fed a baby in any way knows that tone.
The thing is, it's simply not a cool question to ask, because not only is what a woman does with her own boobs no one's business but her own, you also never know what's happening behind the scenes. I was dying to breastfeed my first baby, but she had a terrible latch and wasn't getting anything from me, so I ended up pumping for a few months before switching over to formula. It was a sensitive subject so whenever I was grilled about why she was getting a bottle, it made me upset, no matter how well-intentioned the question. Just…don't go there. There's literally no need.
Luckily, we know Chrissy doesn't let judgy, holier-than-thou keyboard warriors get her down. She lives her life and if you don't like it? Oh well. She's not here for anyone but herself and her adorable kids — as she should be.
This article was originally published on