Chrissy Teigen Is Sick Of Interviewers Asking John Sexist Questions About Their Relationship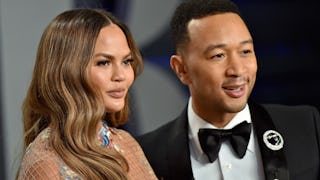 Image via Axelle/Bauer-Griffin/FilmMagic/Getty Images
Chrissy Teigen speaks the truth: asking men how they put up with their wives is super sexist
One of the reasons we love Chrissy Teigen so much is that she calls bullshit when she sees it – and she's able to do so in such a fair, funny, likable way. Last night was no different when the model, author, and social media celeb announced that she's not a huge fan of when people ask her husband, musician John Legend, how he "deals with" her outgoing nature and overshares. Not only did she make some super strong points, but her husband was there to defend her and support her along the way.
"I feel like a very common question when interviewing john is basically 'how do you deal with your wife' and … I don't love it," she wrote. "It happens a lot. 'does she ask you if certain things are okay to say?' …it's just very weird to me."
"He usually does the standard 'no…she knows what she's doing…' but it's not even that," she continued. "It's just that I am a different human than him? It is theeeee most common question with him. Please stop."
Finally, she wanted to make clear that she's annoyed, but not upset. She just wondered why no one ever asks how she deals with Legend's quirks, which apparently involve MSNBC and alone time, or time to rest his voice for singing.
"I'm not mad at anyone who has asked this. I get that we are very different. It happens a lot though and I'm just not very into it. You don't ask me how I deal with watching msnbc every night or what I do while he's silent for a week."
Teigen brings up some super relevant points, especially for women, and especially anyone who's ever been an extrovert married to an introvert.
And not only did she make a strong argument, but Legend was there to back her up 100 percent.
"Yeah my wife is brilliant, savvy, funny as hell and clearly better at social media than me," he wrote just a few minutes after her post. "She doesn't need my advice or censorship when it comes to how she communicates with the public."
Yas. This is the answer that we want and need from all husbands on earth. Partners don't need to censor or control their spouse in any way if you want a loving and trusting relationship. It's pretty simple.
And from there, we then got an amazing cute and funny exchange from the A-list couple:
You don't have to look super hard and long to discover which interviews that Teigen is referring to. As she says, it's basically every single one. The two most recent offenders might be Ellen DeGeneres, who asked Legend if Teigen runs tweets by him, and Carson Daly, who asked if he ever gets upset at Teigen's social media posts.
Sure, it's not a super offensive question, as Teigen points out, but it's also not nearly the most interesting or egalitarian question, either. It's just a little bit sexist, in that way that we all sort of have sexist ideas pounded into our brains from the time we emerge from the womb. It assumes that husbands may need to control their wives – or that introverts and extroverts can't get along.
And like Teigen said, she's not mad at anyone who's done it (she and Ellen are friends), it's just that she wants people to be more thoughtful and aware.
Twitter responded in full support of the couple, but with their agreement and with stories of what it's like to belong to an odd couple where one person is more social or outgoing than the other.
https://twitter.com/jetpack/status/1100628941549662208
https://twitter.com/jetpack/status/1100623807046447104
All in all, this is a very simple request by Teigen for people to stop asking her partner if he feels like his spouse is totally out of his control on social media, and maybe to start asking him about more interesting things than how he puts up with his (totally wonderful and amazing) wife. And her request is totally endorsed by her husband, in his own quieter way.