Chrissy And John Got Family Tattoos And You're Going To Want To Copy Them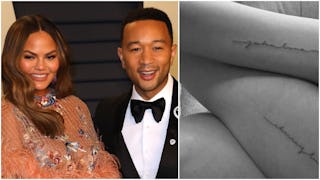 IMAGE VIA TONY BARSON/FILMMAGIC/Chrissy Teigen/Instagram
Their new family tattoos are simple and sweet and now we're all gonna get one
Chrissy Teigen and John Legend revealed their new matching family tattoos on Instagram, and it's only a matter of time before parents everywhere are adding the idea to their own Pinterest inspiration boards. Because they are adorable.
Captioning the black and white image with "hey guys please don't talk to us unless u have tattoos we are a cool tattoo family now and we only want to talk to other tattoo families," Chrissy shared the final result on social media.
The Teigen-Legends showed off their new ink on each of their arms, respectively. John's says "Chrissy Luna Miles" and Chrissy's says "John Luna Miles." They're simple, in fine script, and pretty much perfect tattoos. It looks like Chrissy got an outline of a heart on her fingertip, too.
Chrissy also thanked the tattoo artist, @winterstone, in her post — who in turn replied that she and John were both an "amazing loving couple, mom and dad."
Unless you live under a rock, you know that Chrissy Teigen is pretty much a gold medalist in sharing bits and pieces of her life on social media in a way that is smart, relatable, and often utterly hilarious. We're also lucky enough to get lots of amazing food inspo via her social media accounts, because she's an amazing cook. She's even got her own line of cookware at Target, so you know she's legit.
Recently, she addressed the fact that she gets lots of comments from fans (and trolls) who inquire about her eating habits. Which is absolutely none of our business! But she handled it really well and her response resonated with moms everywhere.
This is something so many of us have had to deal with — accepting our post-baby bodies as the new normal. Even if you shed some pounds, your body is just never quite the same. For some of us, sacrificing good food and happiness isn't worth the torture of looking a certain way to please society and skinny jeans. Though it must be said Chrissy always looks amazing.
It was actually hard for me to read this second tweet of hers, because the same thing happened to me. I shed the 43 pounds I gained while pregnant with my first in less than 3 weeks because I was a zombie who couldn't eat for the first time in my entire life. Anxiety and baby blues did a real number on me, and you know what? It sucked hearing people compliment me, because I was in such a bad place mentally. I was much happier months later with a few additional pounds and a clearer, healthier mind.
Anyway, it's clear Chrissy and John are extremely loving and awesome parents. Their new tattoos fit so well with their style, too. So many of us are always looking for a way to honor our families by way of tattoos, and theirs are simple and lovely.
BRB, adding it to my own Pinterest board immediately.
This article was originally published on