Chrissy Teigen 'Felt So Bad' After Accidentally Offending Katy Perry
by Madison Vanderberg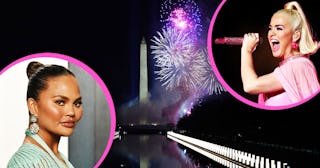 Frazer Harrison/Joshua Roberts/Cameron Spencer/Getty
Chrissy Teigen shares her "faux pas" with Katy Perry after Joe Biden's Inauguration
Chrissy Teigen, bless her soul, is an unfiltered flurry of quippy one-liners and we love her for it, though if you ask Teigen she accidentally says "dumb things" at the wrong time and this time, she accidentally offended Katy Perry by not, well, by not enunciating enough. During a recent Tonight Show appearance, Teigen shared the embarrassing story of accidentally offending the singer while Teigen was in D.C. for Joe Biden's Inauguration.
Teigen went to the 2021 Inauguration to support her husband John Legend as he performed at the Celebrating America concert. Perry also performed that night and sang her hit song "Firework" as actual fireworks burst above her. It was truly fantastic and moving.
Teigen, as she recounts the embarrassing story to Jimmy Fallon, said she went up to Perry (who she says she hadn't seen in "so long") after her performance of "Firework" and said: "Oh I typically hate fireworks but that was amazing. That was beautiful."
Teigen said in that instant she realized that she meant fireworks, like the thing in the sky, but realized that Perry heard her insult her song, called "Firework." I would say we've all been there, but no, literally we have never accidentally insulted a pop star at a presidential inauguration. Lol?
"…I always say dumb things," Teigen lamented. Remember when she begged Joe Biden to follow her on Twitter after spending the last several years blocked by our last president? She then revoked it and asked him to unfollow her because the thought of Biden seeing the things she says stressed her out. "In order for me to flourish as me, I must ask you to please lord unfollow me. I love you!!! It's not you it's me!!!!" she tweeted at the POTUS account.
"I always get so nervous and say faux pas," Teigen added with a laugh. "I think she heard that I said I hate 'Firework,' like the song. I wanted to die, I felt so bad. I was like, 'No, no, no, not 'Firework.' Ugh, I always do that."
Unfortunately we don't know how Perry responded to the whole ordeal, though if she's friendly at all with Teigen, I'm sure she's aware of Teigen's unfiltered, uh, goofs.
But it is true, Teigen does hate fireworks (not the song, the Fourth of July feat).
"It's like bad improv," Teigen says of fireworks. "It goes on two minutes too long. And I don't get fountains, either."
Lol at having a beef with fireworks and apparently, fountains. Oh Chrissy, never change.