We've Been Saying Chrissy Teigen's Name Wrong All Along And She's Finally Corrected Us
by Julie Scagell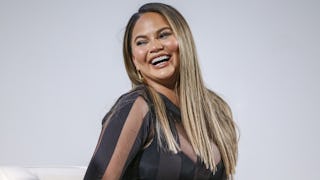 Image via Rich Polk/Getty Images for Viacom
She set the record straight in a video on Twitter
Over the weekend, our celebrity mom BFF Chrissy Teigen dropped a kind of major bombshell on us — all this time, we've been mispronouncing her last name. The mom-of-two took to Twitter to set the record straight and in the process, instigated one of the funniest threads we've seen in quite some time.
Apparently, Teigen's name is pronounced TIE-gen, not TEE-gen. I know, right? The model and author admitted to her followers, bringing her mom, Vilailuck Teigen, in to back up her confession:
And when fans pointed out that Teigen, herself, also pronounces her name wrong, she said, "I know. I even correct people when they say it correctly. it's all v effed up." No wonder everyone's confused.
Then, CNN's Omar Jimenez joined in the discussion, saying he doesn't understand how this has possibly gone on so long. "I don't correct people, ever. They can call me Janet and I won't. Wrong order? I'll eat it. Taxi going to the wrong airport? I'll change my flight," she wrote.
Look Omar, she's the mom of two kids under three, give her a break:
People were understandably blown away that they've been mispronouncing one of their favorite celeb's names since the beginning of time:
But her admission isn't even the best part. It seemed to spark a bit of a truth vomit from people all over the world also admitting to things they don't correct. The results are comedy gold:
(She also gave them five stars and a tip). I die.
https://twitter.com/jetpack/status/1041534721983823872https://twitter.com/jetpack/status/1041594368778366976
Listen, the struggle is real. I'm also one of those people who doesn't like correcting people. If I order something off a menu and it comes wrong, I eat it. If someone mispronounces my last name, that's cool too. I'm easy, breezy — unless you cut me off in traffic — then I'll follow you 40 minutes out of my way just to give you the finger.
Teigen's admission is hilarious and also makes us adore her even more for some reason, if that's possible. She's constantly tweeting the most relatable stuff, shares unflattering pictures of herself (she even looks good in mesh undies), and regularly calls out mom shamers who come after her. What's not to love?
And now we know even more about the 32-year-old social media queen — how to pronounce her name correctly — should we ever be so lucky to be in her presence.
This article was originally published on