Chrissy Teigen Turns Backyard Into A Petting Zoo For Her Son's 1st Birthday
by Madison Vanderberg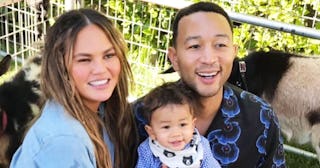 babymilestheodore via Instagram
Miles Stephens celebrated his first birthday with a "Bear-B-Q"
Chrissy Teigen has long documented her son Miles' love of bears, so it made perfect sense for her to hijack the typical Memorial Day barbecue by turning it into a "Bear-B-Q" for her son's first birthday. Though Teigen toasted her son on social media on his actual birthday last week, Teigen waited for the long weekend to transform her backyard into a birthday carnival complete with a petting zoo, a bounce house, and a bear-shaped birthday cake.
Chrissy's mom Vilailuck Teigen shared a photo of Miles riding a pony around his backyard — you know, as one does — and a sweet video of Miles refusing to dig into the bear cake his mom got for him. Awwww.
https://www.instagram.com/p/Bx3mDGbpp64/
https://www.instagram.com/p/Bx47qOLgwK8/
Teigen shared a number of photos and videos from the bash on her Instagram Stories, which were preserved for posterity by a Miles fan account because famous babies have fan-run Instagram accounts now.
We can't get over how much Miles looks exactly like his dad John Legend.
Much like his interaction with the cake, Miles seemed equally perplexed with the tortoise but clearly enjoyed the baby goats.
What. A. Cutie.
https://www.instagram.com/p/Bx76kGlpMae/
Teigen even hung out with one of the petting zoo ponies in her living room. Talk about #goals.
After the petting zoo portion of the fete, everyone took to the pool's water slide which Teigen doused in baby oil. However, things went south pretty fast when Teigen — covered in baby oil — later fell down the stairs. Teigen documented her terrifying bruises on Twitter after the party, and yikes girl!
Teigen has been tweeting up a storm since the party, so we're going to assume she and her bruised leg are fine, but we'll leave you with this adorable Miles palate cleanser.
A few days before the party, Legend shared the sweetest Instagram photo of Miles with a "12 month" update that detailed Miles' favorite hobbies ("dancing, swim lessons, and sharing") and his favorite lullaby ("Old Macdonald Had a Farm").
Oh, and Miles' favorite bedtime story is a book called "My Mom Is Magical," and we completely agree.
This article was originally published on