Chrissy Teigen Trolls Mommy Shamers For Judging Her Post-Baby Date Night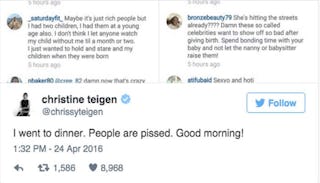 Chrissy Teigen went out to dinner without her baby and people are pissed
Being a new mom is hard, but even more difficult is dealing with all the criticism and unsolicited advice you get on how to take care of your new baby. Chrissy Teigen learned that the hard way this weekend after she stepped out for dinner with her husband, John Legend, and the internet went insane wondering how she could possibly leave her newborn baby.
Teigen gave birth to her daughter, Luna, a little over a week ago, and apparently felt well enough to head out for a "date night" with her man. It's good, as a new mom, to change out of your spit-up covered clothes and get some alone time with your significant other, but did other people see it that way? Nope. Instead, Teigen's latest Instagram post was flooded with ridiculous messages about how horrible she is for being away from her baby so soon. She screenshotted some of the worst ones and shared them on Twitter.
In case you can't read those, here's a closer view. People are discussing her vagina, post-birth bleeding, accusing her of attention-seeking, and making sure to let her know that they never let their kids stay with anyone but them when they were newborns. Eyerolls forever.
Luckily, Teigen is the definition of mom goals, and she fired back at her critics with a series of hilarious tweets. One person even asked her how the baby is doing and she wrote, "I dunno I can't find her."
Teigen is no stranger to mommy-shaming. In fact, she's been dealing with it since early in her pregnancy. As soon as she announced she was expecting, people began critiquing her clothing and food choices, commenting on her body, and even came down on her for admitting she chose to implant a female embryo during her IVF treatments. The model has taken the criticism in stride, often using Twitter to diffuse the situation with her signature brand of wit and charm. It only sucks that she even has to defend herself in the first place.
Like feeding, diapering, and pretty much every other parenting decision, how soon a mom leaves her baby with a sitter for the first time should be up to her. There's no rule book that says you have to wait a specific number of weeks before going out to dinner, and heading out sooner certainly doesn't mean you love your baby any less. Hell, if I had the help and looked as great as Teigen does nine days after giving birth, I would have been out taking a breather too.
New motherhood is a rough gig. It's physically and emotionally exhausting, and too often we martyr ourselves trying to do it all on our own and be everything to this new little person who depends on us for so much. It can be hard to make time for yourself, and it's actually kind of great that Teigen felt ready for a night out. Moms are people too. We're allowed to have a life outside of our kids, and we don't owe anyone — especially random strangers — an explanation for our choices.
This article was originally published on