Chrissy Teigen Pays Off Stranger's Beauty School Tuition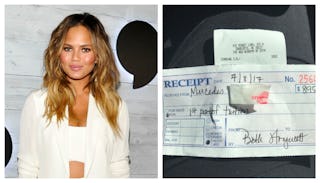 Image via Getty Images/ Instagram
Chrissy Teigen is a queen and we should all bow down
This is Chrissy Teigen's world and we all just live in it. She is a total badass and no one can deny it. Teigen is the queen of Twitter, delivers come backs to haters like a boss and is gorgeous inside and out. Her authentic demeanor and quick wit have endeared her to millions. And just when you thought you couldn't possibly love her any more, she goes and pays for a total stranger's beauty school tuition.
Mercedes Edney of Charlotte, North Carolina started a crowdsourcing page last month in order to raise $5,995 to further her education in esthetician school. She'd only raised about $300 as of Friday, so Teigen decided to step in and get her to her goal, NBC News reports.
Edney wrote on her page, "If you have followed me on social media or my business pages, you know what my goal is. I wanted to further my skin care knowledge by getting my license in esthetics. The issue is that because of my current job, the only school that I can attend does not have financial aid and the scholarships that I have looked at, you have to already be enrolled in school and/or be half way through to even be eligible so that isn't of much help to me either."
Teigen heard about her story and the rest in history. "I was at work, and I heard my PayPal alert go off. I saw the amount and said 'what the hell? what's wrong with PayPal?' I thought it was a glitch," she wrote to NBC News on Twitter.
Along with her donation, Teigen wrote, "I've seen this be your passion for such a long time now. So excited to see you fulfill your dream!"
For those that have commented that Teigen is rich and it's no big deal because she has the money, we say shut your pie hole. Teigen didn't have to step up and do a thing. She does not know this woman or owe her (or anyone else) a thing. She is a human being helping another human being realize a dream.
And we love her for it.
Edney already has a product line and skin care blog, but needed a license in order to do more advanced procedures like facials, peels, and microdermabrasions. Now, thanks to Teigen, she will be able to realize her dream and continue working towards achieving her goals.
Can someone please find Teigen a cape already?