Chrissy Teigen Breaks Silence On Pregnancy Loss With Raw, Emotional Post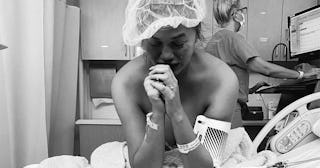 Chrissy Teigen/Instagram
Chrissy Teigen pens a post on Medium about the heartbreaking loss she and John Legend experienced last month
It's been almost a month since Chrissy Teigen and John Legend shared the heartbreaking news that they lost their third child, Jack, at 20 weeks pregnant. In the weeks since, we've heard from Legend after his emotional performance at the Billboard Music Awards that he dedicated to Teigen. Now, the model, cookbook author, and mom has opened up in a raw post about their loss and the people who helped them get through these first weeks.
"I had no idea when I would be ready to write this. Part of me thought it would be early on, when I was still really feeling the pain of what happened. I thought I would sit in the corner of my bedroom with the lights dimmed, just rolling off my thoughts. I'd have a glass of red wine, cozy up with a blanket, and finally get the chance to address 'what happened,'" she writes.
She says she didn't know how to tell her story but that "it feels right to begin with a thank you." Teigen shares that in the past weeks, her family has been "been covered in flowers of kindness."
"Notes have flooded in and have each been read with our own teary eyes," she says. Teigen says she worried about not being able to respond to everyone who wrote to her and expressed gratitude for those who said there was "no need to respond."
She describes the gut-wrenching experience of traveling to a new floor of the hospital, where she was staying while doctors tried to stop her bleeding, to give birth to their son and overhearing another family's joy after their new baby was born. "People cheered and laughed right outside our door, understandably for a new life born and celebrated. You kind of wonder how anyone is thinking about anyone but you," she shares.
Teigen describes the medical situation that led to the loss of their child. She had a partial placenta abruption that wasn't healing, which meant intense bleeding that never stopped. She jokes that she learned to change her own adult diapers, even becoming "an adult diaper expert for my own personal entertainment, truly appreciating the brands that went out of their way to not make me feel like an actual shitting baby."
Because even in her darkest hour, Teigen is still trying to make us laugh.
"Late one night, I was told it would be time to let go in the morning," she writes. "I cried a little at first, then went into full blown convulsions of snot and tears, my breath not able to catch up with my own incredibly deep sadness. Even as I write this now, I can feel the pain all over again. Oxygen was placed over my nose and mouth, and that was the first picture you saw. Utter and complete sadness."
She describes telling John that he needed to take photos and how uncomfortable it made him feel. "But I knew I needed to know of this moment forever, the same way I needed to remember us kissing at the end of the aisle, the same way I needed to remember our tears of joy after Luna and Miles," she says. "And I absolutely knew I needed to share this story."
In the aftermath of their heartbreaking loss and posting some of the photos, some people criticized the couple for sharing them. "I cannot express how little I care that you hate the photos," Teigen writes. "How little I care that it's something you wouldn't have done. I lived it, I chose to do it, and more than anything, these photos aren't for anyone but the people who have lived this or are curious enough to wonder what something like this is like. These photos are only for the people who need them. The thoughts of others do not matter to me."
The way a mother grieves is her own and isn't for anyone to judge or debate.
In the days after their loss, Teigen's feelings were understandably all over the place. "I find myself randomly crying, thinking about how happy I am to have two insanely wonderful little toddlers who fill this house with love. I smother them with love while they 'Moooooooom!!!!!' me. I don't care," she says.
She says she feels "bad our grief was so public because I made the joy so public."
"I was excited to share our news with the world," she says. "Stories leading up to this had been chronicled for all. It's hard to look at them now. I was so positive it would be okay. I feel bad that I made you all feel bad. I always will."
In the end, Teigen is thankful for her family and all the kindness shown to them. "Jack will always be loved, explained to our kids as existing in the wind and trees and the butterflies they see," she says. "Thank you so much to every single person who has had us in their thoughts or gone as far as to send us your love and stories. We are so incredibly lucky."
This article was originally published on