Chrissy Teigen Missed The Memo That Pregnant Ladies Can Only Wear Burlap Sacks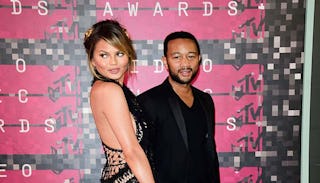 LOS ANGELES, CA - AUGUST 30: Model Chrissy Teigen (L) and recording artist John Legend attend the 2015 MTV Video Music Awards at Microsoft Theater on August 30, 2015 in Los Angeles, California. (Photo by Frazer Harrison/Getty Images)
Yes, pregnant Chrissy Teigen still dresses sexy… and there's nothing wrong with it
Apparently, Chrissy Teigen has missed the memo that she's supposed to completely change her style now that she's pregnant, preferably by covering herself in a pregnancy muumuu, burlap sack, or some other type of drape. The paparazzi is following her around even more now that she's with child, and magazines are having a field day offering up commentary on her wardrobe choices.
Here are just a few headlines from the past few days:
Chrissy Teigen flashes a bit too much in see through top as dines with John Legend
Chrissy Teigen Flaunts Her Baby Bump, Flashes Underboob on Sexy Date With John Legend
Pregnant Chrissy Teigen shows off her baby bump in daring sheer top
Flashes a bit too much? Flashes underboob? "Daring" sheer top? Hilarious. Would she be "flashing a bit too much" if she weren't pregnant? Would her top be considered "daring?" Doubt it. She's a supermodel. There's nothing "daring" about a supermodel wearing a sheer top. Also, the sheerness of the top probably has more to do with a photographer's flash in her face than the actual shirt itself.
I'm going to go out on a limb here and say most women don't usually completely transform the way they dress when they become pregnant. Besides a few pair of maternity jeans and some extra stretchy pants, most women still somehow manage to remain the same actual person they were before they were with child. Isn't that crazy?
Chrissy Teigen was sexy as hell before, so why shouldn't she be sexy as hell now? While we're on the topic, can we stop expecting pregnant women to be poster-girls for chastity and modesty? That's just stupid. They are with child, so we can surely wrap our brains around the idea that they've had sex before, right? Why should hosting a child make a woman any less sexy?
Teigen's in her second trimester, which is usually a pretty wonderful time for pregnant women. You generally don't feel as sick as you did in the first, some of the exhaustion has managed to pass, and your bump is front-and-center but not totally gigantic yet. There's no reason why she shouldn't just go on with her bad self and wear whatever the hell she wants.
Teigen is a supermodel, but this rule applies to pregnant women everywhere: you wear what you want. You are making a human, which basically translates to "no one gets to say shit to you for the next nine months."
The end.
This article was originally published on