Chrissy Teigen Shares First Photo Of Adorable Baby Luna
by Maria Guido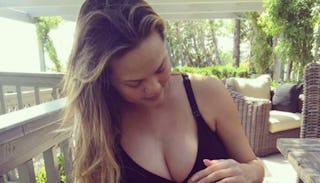 Chrissy Teigen takes to Instagram to introduce Luna
Chrissy Teigen is a new mom, and she took to Instagram to introduce the world to her new daughter, Luna Simone. It's the first child for the model and her singer husband, John Legend. She posted the photo 12 hours ago, and it's already been liked over 700,000 times! Clearly, we're not the only ones who love us some Chrissy Teigen.
It's no surprise that she took to social media so quickly to share her family with her fans. In an interview with People near the end of her pregnancy, the mom-to-be was asked if she was planning on sharing pictures of her first child."We're not going to go out of our way to hide because obviously it's such a big part of our lives to show everything: the inside of our homes, my parents living with us, our animals, everything," she said. "I'm not going to do sneaky back shots of her or anything."
The photo is simply captioned, "hi my lulu!"
"You don't want to force your kid on anyone either," she said. "It's important for me and John to protect some bits of us, but it's hard to say. I didn't think I would be the person sharing bump photos, so who knows. I could be totally wrong here."
The picture is adorable, and the dog is killing us. This is such a familiar look for those of us who have pets. The new pet-sibling look: sitting there, kind of dejected but also protective, trying to figure out what the heck is going on and who this little being is who's getting all the attention.
Chrissy Teigen's mom also shared a shot:
"I'm not ready for people's comments. That's more of what it is," Teigen said to People. "It's not like I don't want to show her or that I'm hiding." It's an understandable sentiment: the model turned TV host got a lot of annoying feedback when she was pregnant — it will surely continue as she shares her parenting journey. This is the internet, after all. Here's hoping everyone will just enjoy the photos for what they are: a loving new mom and grandma, an adorable little baby, and a dog who's having an existential crisis.
Aww.