Chrissy Teigen Just Gave Trump The Perfect Birthday Present
by Valerie Williams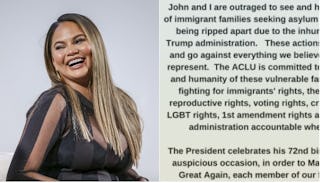 Image via Rich Polk/Getty Images/Twitter/Chrissy Teigen
Chrissy Teigen's honoring Trump's birthday with a hefty ACLU donation
In the era of Trump, there's so many fires to put out it can be hard to know where to direct your buckets of water. If you're against the cruel and inhumane policies of this administration you've probably gone through several bouts over the last year of feeling totally helpless. Well have no fear, because our fave celeb mom, Chrissy Teigen, just gave us the best way to make a difference while also doing a little expert-level trolling.
Today is Donald Trump's 72nd birthday, and to mark the occasion, Teigen and her husband, singer John Legend, tweeted about the gift they purchased for the president:
The message, shared on both Teigen and Legend's Twitter accounts, reads: "John and I are outraged to see and hear the horror stories of immigrant families seeking asylum and refuge in America being ripped apart due to the inhumane policies of the Trump administration. These actions are cruel, anti-family and go against everything we believe this country should represent. The ACLU is committed to defending the rights and humanity of these vulnerable families. In addition to fighting for immigrants' rights, they're advocating for reproductive rights, voting rights, criminal justice reform, LGBT rights, 1st amendment rights and holding the Trump administration accountable whenever possible."
In light of the important work the ACLU is doing in these trying times, Teigen and Legend have decided to put their money behind the cause. They note that today is Trump's 72nd birthday, and "on this auspicious occasion, in order to Make Trump's Birthday Great Again, each member of our family has donated $72,000 to the ACLU."
And freaking BRAVO. Just like the multitudes of donations to Planned Parenthood in Mike Pence's name, this move speaks volumes about how Teigen and her family (and so many of us) feel about the current administration's hateful and harmful policies. But of course, the model realizes that not everyone has that kind of cash.
"If you would like to donate $7.20, $72, or whatever you like to the ACLU in honor of this blessed day, please go to www.aclu.org/72," she writes.
So not only did the family make a hefty donation, they set up a special link just for the occasion to make it easy for the rest of us to help this brilliant and necessary organization in their continued fight against the evil residing at the White House.
There really is a choice, just for today, to donate exactly $72. One buck for each year Trump's graced our planet with his presence. Shudder.
It's easy these days to read horrid stories about children being kept at detention centers without their parents and breastfeeding infants being ripped from their mothers and promptly lose all faith in humanity. That's why gestures like Teigen's are so important. It reminds us that not only are there still plenty of good and compassionate people in this world, but that there are always things we can be doing to make our voices heard.