Chrissy Teigen Live Tweets Disastrous 8 Hour Flight To Nowhere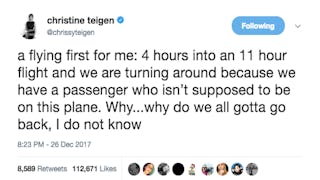 Image via Twitter/Chrissy Teigen
Because no one can live tweet a crazy story better than Chrissy Teigen
There are few things more aggravating than airline travel — specifically delayed flights. Or, if you're Chrissy Teigen, a completely rerouted flight that lands you in the exact same location where you began your trip. Eight hours later.
A literal trip to nowhere for an entire airplane full of people, courtesy of a singular misplaced passenger.
Teigen and her husband, John Legend, were en route to Tokyo to spend New Year's Eve "eating sushi" — or so they thought. Turns out merely four hours into the 11 hour flight, the plane had to do a literal U-turn in the middle of the Pacific Ocean.
How does this happen? Seriously, with all the endless hoops one must jump through to even get to a boarding gate — the shoes, the metal detector, the endless scanning of passports and IDs and tickets and dozens of boarding calls — HOW DOES SOMEONE STILL END UP ON THE WRONG FLIGHT? Whether the passenger was having communication struggles or the gate agents were on autopilot (ha, see what I did there?), someone majorly dropped the ball.
That would be my biggest issue — why must an entire plane full of passengers, most likely hundreds of people, have to be ridiculously inconvenienced for this one person? Naturally, the internet went crazy with conspiracy speculation.
Teigen, who is pregnant with the couple's second child, seemed to make the most of what would imaginably be an insanely frustrating experience.
Apparently all the hullaballoo was due to the passenger having a ticket through the wrong airline. Sure, it's got to be a relief it wasn't anything more serious, but still — how does this happen.
LOL. People were aghast that she was being such a good sport, but if you follow Chrissy Teigen on Twitter, you already know how much she loves a good story.
The reactions of all the Twitter users just eating out of the palm of her hand for this story is pure gold.
https://twitter.com/jetpack/status/945943937293852672
Teigen and Legend seemed to shrug it all off and even had some fun with fellow passengers.
After spending over eight hours on a plane that went nowhere and a couple more hours spent in the LAX airport lounge, they eventually boarded another (hopefully non-stop) flight.