Considering Christian Adoption? Here's What You Need to Know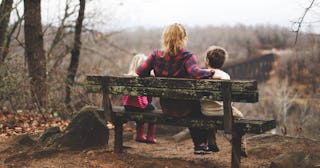 Benjamin Manley/ Unsplash
While some families decide to adopt because they are not able to have their own biological children, others may also choose adoption for religious purposes. Specifically, members of the Christian faith may opt to adopt children as a way of growing their families. There are several Christian adoption agencies in the United States that can help place children with families who want to raise them according to Christian values and teachings. Here is what you need to know about Christian adoption.
If you're looking for more info on other types of adoption, you can find our guides to embryo, open, closed, baby, foster care, private, adult, international, transracial, step parent, military, single parent, Jewish, and same-sex adoption.
How does a Christian adoption work?
In general, the Christian adoption process itself — in terms of finding an agency, submitting an application, etc. — is basically the same as it is for people of other faiths. And like any type of adoption, you're going to need to do some research first, considering things like whether you want an open or closed adoption, whether you're willing to start off fostering a child, whether you want to adopt domestically or internationally, and what type of agency is right for you.
Those interested in Christian adoption can choose from agencies that specialize in international, domestic, and regional adoptions. There are several Christian adoption agencies, including Bethany Christian Services, Christian Homes of Abilene, Lifeline Children's Services, Holt International, America World Adoption Agency, An Open Door, Buckner Adoption, Lifeline Adoption Agency, Living Hope Adoption Agency, and A New Beginning Adoption Agency.
What is the cost of a Christian adoption?
The costs of adoptions vary, usually ranging from around $15,000 to $30,000 for the adoptive parents — whether they're single or part of a couple. However, if you opt to adopt from foster care, it will be either low-cost or free. If you're looking to go through the Christian adoption process, but are unable to afford to work with an agency, there are several organizations that offer financial assistance.
For example, the following organizations provide grants to Christian families looking to adopt: A Child Waits Foundation, Brittany's Hope, Elijah's Truth, God's Grace Adoption Ministry, Hand in Hand, Isben Adoption Network, Lifesong for Orphans, Reece's Rainbow, and Show Hope.
There are also groups that offer loans for those who need help with the costs of a Christian adoption, including the ABBA Fund, America's Christian Credit Union, Lifesong for Orphans, National Adoption Foundation, and Pathways for Little Feet.
What are the pros and cons of using a Christian adoption agency?
The Potential Pros
Like any type of adoption, there are both pros and cons to working with a Christian adoption agency. According to Considering Adoption, some of the pros include:
You'll probably get religiously based counseling and pro-life encouragement (which is likely a pro if you're seeking a Christian adoption).
You'll work with an organization whose ethics and values are similar to yours.
Many Christian adoption agencies also offer families the opportunity to do ministry/mission work, especially in countries where they work with orphanages for international adoptions.
Many adoptive couples feel called to adopt, and believe that working with a Christian adoption agency can help fulfill that calling.
If your family or community is unsure about your decision to adopt, you might receive greater support from them if you work with a Christian agency.
Using a Christian adoption agency can be a great option for like-minded couples who want to work with an agency that understands their values. When working through the process, you can almost guarantee having a caseworker who will pray right along with you as you make your adoption journey. There is a ton of value in that kind of faithful partnership.
The Potential Cons
Similarly, Considering Adoption lists the following cons of working with a Christian adoption agency:
You may feel pressured to continue to work with the organization after the adoption is complete.
Smaller, regional adoption professionals may be subject to more drastic changes in laws than a larger organization, which can better handle financial, judicial, or legal changes.
You might have a better chance of finding a child to adopt with a larger secular agency.
Christian adoption consultants may not offer full adoption services, which means you may have to spend more time and money working with others throughout the process.
If you're a single person, in a domestic partnership, or married to someone of the same sex, Christian adoption agencies may not be willing to work with you, as many Christians believe that only heterosexual married couples should be able to start a family.
If you are a more liberal Christian, it's worth noting the troubling accusations Christian agencies have faced. There are multiple reports of agencies that seemingly prey on lower-income expectant mothers. Expectant mothers are often convinced not to abort a child in exchange for having support through the pregnancy and post-partum process. That support often turns out to be lacking or non-existent, though. Is that problematic or even predatory? There are many ways an opinion can fall on these practices. Ultimately, it's another hard decision you'll make on your journey as a parent.
Before deciding on any type of adoption agency — or whether to adopt at all — it's important to do your homework and make sure that you choose the path and organization that works best for you and your family.
Will I still have to have a home study for Christian adoption?
Yes, you will. Home studies are a central requirement for nearly all types of adoption, including Christian adoption, so knowing exactly what is expected of you can help parents prepare to complete one successfully.
In addition to home visits and interviews with a social worker or an agency representative, a home study will require adoptive parents to submit their complete health and income documentation. Prospective parents will also need to write autobiographical statements describing their life story, allowing the social worker to get to know them better. But they don't just take your word for it, home studies include background checks for anyone over the age of 16 in the household. Finally, prospective parents will need to provide personal reference letters from three or four family members and friends to show why they will make perfect candidates for adoption.
This article was originally published on