GOOP Will Sell $250 Baby Louboutins Because Of Course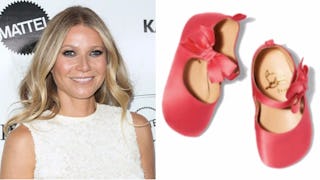 Image via Paul Archuleta/Getty Images/Twitter/Christian Louboutin
What better way to spend our hard earned money than on shoes our babies will outgrow in a month?
If you're a lover of infants and shoes — today is your lucky day. Thanks to a collaboration with everyone's favorite ridiculously out-of-touch "lifestyle" website and French fashion designer Christian Louboutin, we now have $250 shoes for babies.
Louboutin, famous for his high-end heels with the red-lacquered soles, is focusing all his creative designer juices towards tots. The limited-edition Mary Jane inspired "Loubibabys" are Louboutin's first for kids, according to Glamour. They're available in three different colors — gold, blue, and pink, so you have options when keeping your baby's outfit game on point from top to bottom. Sure, they're $250 a pair but doesn't your baby deserve the best? Considering Louboutin's adult shoes are anywhere from $600-$1500 a pop, these miniature kicks are really a steal.
And what better place to sell these luxurious slippers than on GOOP, Gwyneth Paltrow's "lifestyle brand" website. GOOP is famous for its annual gift guide featuring everything from vagina eggs to a $3000 leather bicycle, so as far as they're concerned, these shoes are probably totes reasonable.
The fancy shoes will be available on November 16, so you may need to pay extra to get them shipped in time for Thanksgiving but hey, what's an extra $15-20 all things considered. Pocket change.
As long as you're stocking up for the kids, don't forget to pick up some of GOOP's Chill Child Calming Mist, a "rosewater and Reiki crystal-infused aromatherapy mist," assuming we can spray it on our kids when they are acting like rabid raccoons and it will magically calm them down. Please note you should avoid spraying near their eyes, as this likely would reverse the calming sensation immediately.
https://www.instagram.com/p/BZo_q8EB7HZ/
We can certainly think of a few other ways to spend $250, like say on groceries for two weeks for a family of four, 41 trips to Starbucks, or a weekend away from your kids relaxing in a noise free hotel room, which seems more sensible than buying shoes for a person who can't even walk yet. But hey, that's just us.
Don't have a baby girl of your own to don these posh slippers? GOOP's got you covered there, too. Simply purchase their Sex Dust, formulated "to ignite and excite sexy energy in and out of the bedroom," and fingers crossed in nine short months, you'll have a tiny pair of baby feet to adorn. It will set you back another $38 but it's a small price to pay for a child.
The Loubibabies are adorable, we have to admit. But for $250 a pair, is it too much to ask that they come with a babysitter on the side?
This article was originally published on