Christina Aguilera Calls Britney's Conservatorship 'Unacceptable'
by Christina Marfice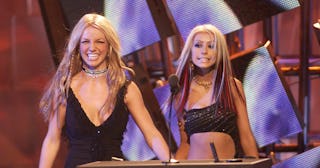 Frank Micelotta Archive / Contributor
Christina Aguilera is speaking out in support of her old friend, Britney Spears
Back in the early 2000s, you had to pick a team: Britney or Christina? It was the battle of two fast-rising pop superstars, and fans were as divided over them as they were over the Backstreet Boys and NSync. But now, 20 years later, they're very much on the same team. In fact, Christina Aguilera just spoke out in a powerful Twitter thread, supporting Britney Spears and condemning her "unacceptable" conservatorship.
"These past few days I've been thinking about Britney and everything she is going through," Aguilera wrote. "It is unacceptable that any woman, or human, wanting to be in control of their own destiny might not be allowed to live life as they wish."
She shared her thoughts alongside a throwback photo that showed her and Britney together. It might have been taken all the way back when both women were members of the Mickey Mouse Club. They look so young.
"To be silenced, ignored, bullied or denied support by those 'close' to you is the most depleting, devastating and demeaning thing imaginable. The harmful mental and emotional damage this can take on a human spirit is nothing to be taken lightly," Aguilera continued. "Every woman must have the right to her own body, her own reproductive system, her own privacy, her own space, her own healing and her own happiness."
She also acknowledged that there may be more to Britney's story than we all know, but referenced the rigors and pressure she's faced in her own career as she continued to speak her support.
"While I am not behind the closed doors of this very layered & personal yet public conversation – all I can do is share from my heart on what I've heard, read and seen in the media," Aguilera said. "The conviction and desperation of this plea for freedom leads me to believe that this person I once knew has been living without compassion or decency from those in control."
Aguilera finished her statement by writing, "To a woman who has worked under conditions and pressure unimaginable to most, I promise you she deserves all of the freedom possible to live her happiest life."
https://twitter.com/jetpack/status/1409673272283729920
With a white heart emoji, she shared, "My heart goes out to Britney. She deserves all the TRUE love and support in the world."
Aguilera's thread comes after Britney gave a powerful and heartbreaking speech in court last week, describing years of abuse and oppression under her unusual and controversial conservatorship, which gives complete control of her life and finances to her father and lawyers. In the days since, fans around the world, including other celebrities, have rallied to support the embattled star.