'I Am A Mom First': Christina Aguilera Announces 1st Tour In 10 Years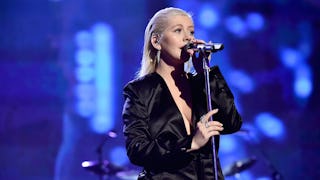 Image via Jeff Kravitz/Getty
Xina is hitting the road to promote her new album to show her kids "what mommy really does"
Christina Aguilera hasn't toured in a solid ten years, since her Back to Basics tour in 2008 and the birth of her first child, Max Liron that same year. But today she announced she'll be hitting the road in September to promote her first new album in six years, Liberation, which drops on June 15.
The pop star told Billboard last week that she hasn't been working on her own projects in recent years because she's been focusing on her kids, ten-year-old Max and three-year-old Summer Rain — and that they are the reason she stayed in her steady and close-by celebrity judge position on The Voice from 2011 to 2016.
But now she's ready to put herself first and show her kids what she's all about.
"Touring is so frightening to me, because I am a mom first. It's part of why I stayed in the position I was [at The Voice]," she said. "It's easy to get comfortable and cushy in the same place and not have to worry about uprooting your kids. I've been putting myself on the back burner."
She added, "It needs to happen. I'm looking forward to getting back out and actually showing my kids what Mommy really does!"
The tour will begin in Hollywood, Florida, on September 25 and wind it's way Northeast, West, and then South again before ending in St. Petersburg, Florida in mid-November. Here are the official tour dates.
Until recently, Aguilera has been mum about her time as a celebrity judge on The Voice and polite about her reasons for leaving the show. But she opened up to Billboard, saying that her time wasn't "positive."
"It became something that I didn't feel was what I had signed up for in season one," she told the magazine. "You realize it's not about music. It's about making good TV moments and massaging a story. I didn't get into this business to be a television show host and to be given all these [rules]," she continues. "Especially as a female: You can't wear this, can't say that. I would find myself on that show desperately trying to express myself through clothing or makeup or hair. It was my only kind of outlet."
Now Xtina is running full speed ahead on her new album, which she says is heavily influenced by R&B and hip-hop. The album's first single, "Accelerate," features Ty Dolla $ign and 2 Chain and produced by Kanye West.
Aguilera is excited to be doing what she does best and to get on the road with her new material. But she still loves balancing her work with her family life.
"When I'm onstage, there's not a bigger high, when I'm in connection with my voice and my heart and my soul," she told Billbaord. "But at the end [of a performance], I want to wipe it all off, get in my sweatpants, make silly noises with my kids and have someone comfort and cuddle me."
This article was originally published on