Whether Or Not You're A Fan Of Christina Anstead, Her IG Post About Divorce And Anxiety Is Gold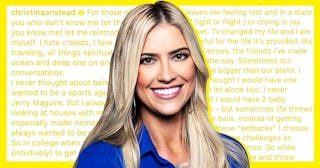 Scary Mommy and Christina-Anstead/Instagram and Aaron Rapoport/Corbis/Getty
I've always been told I talk and share too much. It's just the way I'm wired. I've tried to reel it in for a bit, but it feels like I'm wearing scratchy jeans that are crooked and give me a camel toe.
I hate that feeling–no one likes to feel like they can't move freely in their own skin and they are holding things in so that everyone else can be comfortable.
There are those who share things about their life and those who choose to stay quiet. Either way is okay as long as it feels true to you.
I've written about my divorce a lot. There are some people who have looked down on that and think I should button it up. But for every person who has told me to shut my lips (I won't), there have been ten who have told me that my being honest has helped them in a big way.
If there's one thing I've learned about people, it's this: No one likes to be hurt, and no one likes to be hurting alone.
While scrolling my way through the social media recently, I came across a headline about Christina Anstead. To be completely honest, I didn't know who that was until I saw her picture. I'd watched her on television a few times, and heard about her first divorce, but other than that, I didn't know anything about her.
What caught my eye was the headline: "Christina Anstead candidly discusses divorces, setbacks in refreshingly frank post."
I read it over a few times to discover she was going through her second divorce and she was sharing her feelings about it. It was incredibly real and honest and she admitted to feeling like she never thought anything like this could happen to her.
"I never thought I would have one divorce let alone two," she shared. "I never thought I would have 2 baby daddies — but sometimes life throws us curve balls. Instead of getting stuck in these 'setbacks' I choose to look at these challenges as opportunities to grow. So while some may judge me and throw around rumors about me, most of you support me. And that says a lot about this world and where we are headed."
I don't think anyone walks down the aisle thinking they will get divorced. When it happens to you, it can make you feel like you're living in a bad dream, even if it's the right choice (and what you want.)
As I kept reading her honest words, Anstead talked about her anxiety — and I found the way she explained it, and how she dealt with it, to be extremely relatable.
"I live in a state of anxiousness and I'm so used to it that when it's not there I tend to feel a void and hop into something that causes the feeling I'm used to. This can be good and bad. And it's one of the things I'm working on breaking the pattern of."
I instantly related and didn't feel so alone. It sounded like my life. For as long as I can remember, if things are going smoothly for a few hours (let's face it, that's about all we get), I start to get really anxious and think there must be something bad on the horizon. It's like my mind is spinning in place, looking over and over for some kind of chaos, and I can't settle into the fact that things are okay.
There have been so many times in my life I've done this very thing and sat there thinking, What the hell is wrong with you, Katie? No one else acts like this or handles their life this way. You are screwed up.
But oh yes, they do. Most of us just don't feel comfortable talking about it, or we think there's no one else out there suffering like we are and we're deeply flawed. Which makes us more anxious, and so the cycle continues.
Whether you are a fan of Anstead or have no idea who she is, whether you're happily married or going through a divorce, her post is a must-read for people suffering from anxiety. It's a hard thing to admit publicly, that you suffer and have to work on your mental health, but the way I look at it, it's unbelievably resourceful.
When you are suffering, it can lonely and isolating. Not everyone feels comfortable reaching out or has the words to ask for help. It always helps to know you aren't the only one going through something hard, and posts like this — especially from someone who is in the spotlight of public scrutiny — normalize anxiety, and divorce, in a huge way.
This article was originally published on