Christine Blasey Ford Is Still Getting Death Threats And Has Moved 4 Times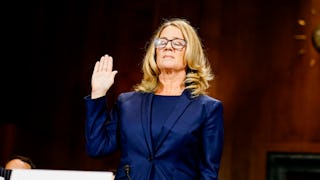 Image via Melina Mara-Pool/Getty Images
Christine Blasey Ford testified to the Senate more than a month ago. She's still getting death threats.
Christine Blasey Ford, the first of several women to level sexual assault and misconduct allegations against then-nominee to the Supreme Court Brett Kavanaugh, is still trying to piece her life together in the aftermath of her brave decision to speak out.
Blasey Ford was forced to leave her home after her personal details were leaked online, and since well before her Senate testimony, which happened more than a month ago, she's been moving between various residences where she stays with full-time security. She has also received "unending" harassment, including death threats. It has been nearly six weeks, and this has not let up. Six weeks.
"Justice Kavanaugh ascended to the Supreme Court, but the threats to Dr. Ford continue," Ford's lawyers, Debra Katz, Lisa Banks and Michael Bromwich, told NPR in a statement.
They say she's had to move four times in those six weeks. She has to pay out of her own pocket for a private security detail to stay with her in her home and accompany her everywhere she goes. She has not been able to return to her job as a professor at Palo Alto University.
The next time someone says women accuse famous and powerful men of sexual assault because it will make them famous or rich, remember this. The next time someone wonders why women don't come forward about sexual assault until years later, if at all, remember this. Women do not gain power, fame, money or even justice or closure for standing up to their attackers.
All too often, they are shamed, harassed and threatened — a fact that wasn't lost on the internet.
Christine Blasey Ford is a hero, who sacrificed her own well-being to do what she thought was right for the country: To expose Kavanaugh's misdeeds. And this is what she gets for it. Her life is now a nightmare with no end in sight, because she did the right thing.
The people who continue to harass this woman are monsters. And the people who don't find this absolutely horrifying aren't any better.