This Is Dr. Christine Blasey Ford's Testimony About Brett Kavanaugh's Alleged Assault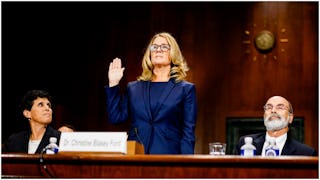 Image via Melina Mara-Pool/Getty Images
Read Christine Blasey Ford's heartbreaking testimony about Brett Kavanaugh's alleged assault
On Thursday, Christine Blasey Ford testified in front of the Senate Judiciary Committee about the night Brett Kavanaugh allegedly sexually assaulted her. She opened up in heartbreaking detail about the evening in question and discussed her painful decision to share her story publicly.
Ford began by telling the committee, "I am here today not because I want to be. I am terrified. I am here because I believe it is my civic duty to tell you what happened to me while Brett Kavanaugh and I were in high school."
As a teen, Ford's social circle used to intertwine with Kavanaugh's and, during the summer of 1982, the two attended the same party. Ford recalled that Kavanaugh and his friend Mark Judge were already drunk when she arrived. At one point, Ford climbed the stairs to the second floor bathroom and found herself being pushed from behind into a bedroom.
"I couldn't see who pushed me. Brett and Mark came into the bedroom and locked the door behind them," she said. "There was music already playing in the bedroom. It was turned up louder by either Brett or Mark once we were in the room."
Ford alleged that she was pushed onto the bed and Kavanaugh got on top of her. "He began running his hands over my body and grinding his hips into me. I yelled, hoping someone downstairs might hear me, and tried to get away from him, but his weight was heavy."
She said that he tried to take off her clothes but fumbled because she was wearing a one piece bathing suit. Ford believed that Kavanaugh was going to rape her.
"I tried to yell for help," she recalled. "When I did, Brett put his hand over my mouth to stop me from screaming. This was what terrified me the most, and has had the most lasting impact on my life. It was hard for me to breathe, and I thought that Brett was accidentally going to kill me."
During the assault, Judge jumped on the bed, Ford wrote, which allowed her to escape, run into the bathroom, and lock the door. Once she was sure that the boys had left the bedroom, she fled the house.
For years, Ford only shared this story with her therapist, husband, and a few friends. Then, she saw that Kavanaugh had been placed on the short list of possible Supreme Court nominees. "I thought it was my civic duty to relay the information I had about Mr. Kavanaugh's conduct so that those considering his potential nomination would know about the assault," she said.
Ford was scared to step forward. She didn't want to have to relive the trauma. She worried about putting her family into the spotlight. She decided to do it anyway, because she felt it was the right thing to do. As a result, she's been subject to death threats, she's been called "the most vile and hateful names imaginable," and her family was forced to move out of their house.
But still, Ford bravely sat in front of the Senate Judiciary Committee and told her story.
"My motivation in coming forward was to provide the facts about how Mr. Kavanaugh's actions have damaged my life, so that you can take that into serious consideration as you make your decision about how to proceed," she said. "It is not my responsibility to determine whether Mr. Kavanaugh deserves to sit on the Supreme Court. My responsibility is to tell the truth."