When Christmas Joy Is Hard To Find Because You Feel All The Feels For Those Who Struggle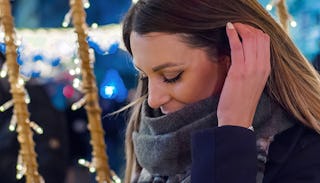 Shutterstock
It's the most wonderful time of the year! It is! Because the song says so, right? And TV commercials? All those cozy houses dripping with garland, and flannel pajama-clad families sipping cocoa under Christmas trees loaded with presents, then running outside to find their new luxury car in the driveway! I mean, So. Much. Joy! And lest we forget social media feeds oozing merriment with happy families at Christmas parties and on ski vacations!
I just don't feel it — not the joy, the merry this and that, the excitement and anticipation my kids have. Not the pleasure of decorating and gift exchanges, or big family parties and all the other festive commitments I need to take part in.
And it's not because I'm a grinch, anti-Christmas, or woke up and took my Bah-Humbug pills this morning. It's because for me the season always brings with it one emotion I can't seem to shake: sadness. Lots and lots of empathy and sadness for those in this world who will have a Christmas without.
As a child, my Christmases were full of wonder, joy, and plenty of baby dolls and new bikes underneath the tree. It wasn't until one day, while noticing my mother silently crying during a Christmas song, that I realized Christmas for many people wasn't the most wonderful time of the year — it was the most difficult time of the year.
I asked my mom that day why a Christmas carol would make her cry, and her answer forever changed the way I feel about the holidays. She said, "This time of year is the worst time of year for some people, for many people. They are missing loved ones, kids, or parents. They can't afford gifts for their kids or even a good meal on the table at Christmas. They may have had a tragedy in their life, and another holiday without that loved one can be unbearable. Some people won't make it home for Christmas ever again. And for many, they just want it all to be over because it's just too painful to be forced to be joyful, when their everyday is a struggle."
From that day on, I've never looked at Christmas the same. The weighty and often aching empathy for those suffering and grieving this time of year can be so heavy in my heart it makes it nearly impossible for me to find joy sometimes. I suppose when you're the type of person who feels all the feels, those feels, especially the somber ones spurned on by Christmas, can almost be too much to bear for one person, especially a mother.
For my kids' sake, I know I'm supposed to keep Christmastime fun and memorable, and that all their school and church activities are not meant to be burdensome and a hassle, but instead opportunities for lasting holiday memories. But to me they just don't feel as important as me trying to lighten the load and bring a morsel of joy to those suffering friends and neighbors at Christmas.
The retail marketing takeover of Christmas and the societal pressures to have a picture perfect holiday only add to the angst I'm sure those suffering are already feeling, and it's something I cannot un-see. Where most see grocery shelves full of holiday indulgences, I see families depending on food banks. Where some see well-dressed families smiling widely in photo cards, I see families facing the reality that their Christmas cards this year will be missing a member. Where there are internet toys deals to be had everywhere, I see a single mom counting change and trying to figure out how she is going to make Christmas morning actually happen.
I can give and give and give and it will never be enough, and will never take away the fact there are pain, struggles, and losses in a lifetime, and they don't take a break during the holidays. And for us sensitive folks? Well, we end up being robbed of a joyful holiday because we choose to continue to see anguish and hardship in our fellow man.
But I've learned it doesn't have to be that way. I can choose to make a difference in the lives of those who are having hardships at Christmas, and I do.
But I can also choose to do one more thing: I can look for hope and light even in the darkness, and as it turns out at Christmastime, it's kinda everywhere. And there is one place in particular where it will shine above all. On December 25, on average almost 6,500 babies will be born. There will be 6,500 moms and dads unwrapping the greatest gift of all and bringing home a present that forever will be cherished every day of the year, not just during the holidays. Those babies represent everything wonderful about Christmas, and it's not garland, sugar cookies, or stocking stuffers. It's the hope of new beginnings, and the promise that even in the midst of suffering, there will always be new life.
Turns out one year I also got that gift. My third son came into this world on New Year's Eve — a perfect and forever reminder to me that the season doesn't have to be sad after all.
This article was originally published on