Be The Extra Mom At The Holiday Party With Christmas Tree Hair
by Valerie Williams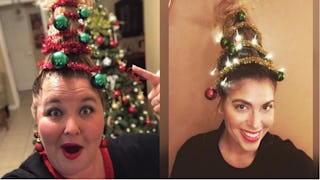 Images via Instagram/Kandiceeeeee/hair_by_lalu
Christmas tree hair is a beauty trend we can get behind
It's holiday party season and amid all the work of gift-buying, wrapping, cooking, baking, and decorating, you may have run out of time to cultivate A Lewk for this year's round of festive soirees.
Well, calm the hell down because we've got big news for you. Big, tall, tacky, ridiculous, amazing news.
Christmas tree hair is a thing now, apparently, and just in the nick of time. While you've been busy doing all the shit moms do to prepare for the December holidays, your hair has been in a boring bun, just waiting for its chance to shine. And that chance is here.
Behold.
https://www.instagram.com/p/BcXaPq6AcBn/?tagged=christmastreehair
That's right, ladies. We can now turn our tresses into a damn Christmas tree — and the timing is excellent. I was just thinking over the weekend that I haven't had so much as a trim since Leg Shaving Season (in other words, like four months ago) let alone thought about something I could do to my hair for our upcoming slate of holiday get-togethers. My unspoken prayers were answered in the form of this hashtag.
Christmas tree hair isn't as hard to achieve as it looks. All you need is a tall plastic bottle and a dream.
It's easy to set up and once you have the initial tree structure solid, the world is your oyster.
Throw in some bells so everyone hears you coming. You deserve all eyes on that glorious tower.
The best part about this look is it's cheap (you know you already have some tinsel, bulbs, and lights to use lying around somewhere), it's easy, and it's a real head-turner.
You can literally light up the damn room for the cost of a $3 strand of lights.
https://www.instagram.com/p/BckqqnQAbM-/?tagged=christmastreehair
You can top yourself off with a star or an angel.
https://www.instagram.com/p/Bckkf23Hmc5/?tagged=christmastreehair
You can pose sassily with your inspiration.
All the while knowing that you look flawless.
Outshine all your BFFs in every holiday selfie.
Turn heads wherever you happen to be.
https://www.instagram.com/p/BchDv0glYxH/?tagged=christmastreehair
Because you know you look good.
https://www.instagram.com/p/BcgpACogPsO/?tagged=christmastreehair
Even if you have to make small talk with that insufferable PTA vice president who gets monthly touch-ups to her $300 highlights, please know that you're shining bright like a diamond for all to see.
https://www.instagram.com/p/BcfmjNbFYYw/?tagged=christmastreehair
Own this holiday season and let everyone else bask in the glow.
https://www.instagram.com/p/BchPzcxlFDq/?tagged=christmastreehair
When it's all over, you can go back to your messy bun without much fuss. But the memories will last forever.
This article was originally published on