Ohio Family Turns Their House Into An Exact Replica Of 'Christmas Vacation' Every Year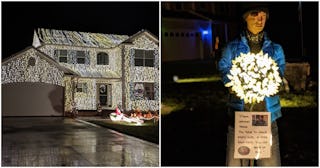 Facebook/Wadsworth Griswold House
The Ohio family recreates all of the best parts of the holiday fave 'Christmas Vacation'
One Ohio family makes it their mission to do Clark Griswold proud by bringing his love of exterior illumination to life and turning their house into the stuff of National Lampoon's Christmas Vacation dreams.
Sure you can buy a Christmas Vacation village on Amazon but this family does things a little bit bigger. Greg Osterland and his family have been decorating their Wadsworth, Ohio home just like the Griswold's since 2013.
"250 strands of lights; 100 bulbs per strand; for a grand total of 25,000 [Chinese] imported twinkle lights! Drumroll please," the home's public Facebook page reads.
The Osterlands have left no detail to chance. They've not only nailed the outside lights, but they managed to recreate all the iconic scenes from the movie down to the lights illuminating the storm sewage. This family wins Christmas.
"While the inaugural lighting was held on Friday, December 6, 2013, this display has been in the making for many years," they shared. "This is a project that Greg has dreamt of doing since he was a child. Every Christmas Eve, his family would sit down to watch National Lampoon's Christmas Vacation." He even manages to get department store Mary ("That's my name. No shit.") into the scene.
They also have a light show which is intended to be an exact replica of the display from the movie. The Osterlands lit this year's display on November 29, giving a true gift to neighbors and visitors alike. Plus, they included the best part — Cousin Eddie's RV. They've even gotten him in his favorite position — standing in a short robe, holding a beer, cleaning out his shitter.
"Now the display does not change much from year to year because we want to stay as true to the movie as possible," the family continued. "Though there may be a few small changes/additions each year." One of those additions was Rusty sorting out the bulb knot handed to him by his father.
I cannot imagine the time and energy that goes into this every single year — all for the love of a movie and a memory of childhood. What a wonderful way to pay homage to the time spent together and now sharing that love with the rest of the world. It's impossible not to look at this and smile.
The family does accept donations at their home and online. "We participate in the Cystic Fibrosis Foundation's Great Strides walk in Akron each May," they wrote. "100% of the donations we collect during the Christmas season goes directly to our Great Strides fundraising." What an amazing family.