11 City Coloring Pages For Times You're *Also* Feeling Like You'll Never Sleep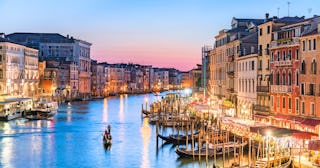 Ian.CuiYi/Getty Images
Have you ever dreamed of moving to the big city? Or maybe you enjoy visiting but don't get to travel as much as you'd like? Whatever the case may be, our collection of city coloring pages will give you a quick (and colorful!) fix in the form of a dynamic DIY kids' activity. Because here's the thing: These city coloring pages all have one thing in common — they're bustling with fun.
Of course, the fact that these free printables are so very busy is a bonus for those who love to color and get highly detailed while doing so. While it's true that our dynamic collection of city coloring pages might not be the best choice for toddlers who want to scribble and explore, they're perfect for kids and adults who are learning how to master small details. And if you're a lover of travel, we probably don't have to tell you that part of what makes city coloring pages so exciting is that each one takes you to a new place. In a world where most of us haven't had a real vacation in over a year, that quality is even more appreciated.
Here are 10 great coloring pages to print out for you and your family. And when you're finished with these, let your wanderlust take you to our ocean coloring pages, forest coloring pages, and moon coloring pages.
Free Printable City Coloring Pages
City No. 1
This city coloring page is impressive since it includes so many detailed areas. You can actually print this out and take a week to color it in if you don't happen to have a ton of free time at your disposal. Use your imagination to think about what happens in all of these small buildings and city squares.
City No. 2
Not too many of us get a chance to see an aerial view of our town. If you're an advanced artist, you can add a lot of depth to this coloring page by using shading to create dimension. Or, if you're looking for a challenge, color this in as realistic to your hometown as possible. Where do you live? Where's your favorite restaurant? Leave no detail unexplored! Here's an interesting detail about New York City: Did you know the New York City Federal Reserve Bank has the biggest gold supply in the world? It has about $90 billion in gold.
City No. 3
Ever drive through a city before? If so, you might not have smiled as widely as this family. City traffic can be a bit much, but it's also overwhelming due to all of the sights and sounds around you. We recommend keeping a list of road trip games handy in case you get stuck in a big city traffic jam.
City No. 4
What a beautiful — and intricate — cityscape! We imagine this to be a charming European city, but you can make it any locale you wish. You can even make up your own city! Bring it to life using different shades of the same color for the stone sidewalk. Adding some subtle color to the flowers in the windowsills would also make this page stand out.
City No. 5
Is it just us, or does this look like the Italian Riviera? Revel in all of the coastal scenery of this idyllic city by capturing every detail with sharpened colored pencils. Greens, blues, and even grays would look fantastic in the water. You can also color the clouds to resemble a stormy day if you're looking to make this page a little more broody.
City No. 6
Windows, glorious windows! While you probably appreciate windows in actual homes, they might pose a bit of a challenge when it comes to this city coloring page. But try your best to color in the lines and give each building its own distinct personality. Pay extra attention to the brick building on the right, as that might take a couple of lunch breaks to complete by itself.
City No. 7
At first glance, this coloring page could be a portrait of the historic seaside city of Charleston, South Carolina. Its iconic downtown rests on a peninsula and is often dubbed the "Holy City" for the church steeples that dot its skyline.
City No. 8
There's a horse! (And, to think, this isn't even one of our horse coloring pages.) Have you ever visited a city where you could take a horse-drawn carriage ride on cobblestone streets? It's a bumpy ride but well worth it for the unique perspective.
City No. 9
This looks like the dreamy small European hamlet that everyone wants to visit on vacation. And for a good reason — even when it's not colored, this coloring page exudes tranquility. As you're coloring it in, consider using calm and welcoming colors.
City No. 10
Do you like bricks and stones? Well, do we have the coloring page for you! Like the rest, this one can take hours if you're looking for a creative project to pass the time. We recommend watching Beauty and the Beast while you color this one. Can't you just picture Belle strolling down that street with a book in hand?
City No. 11
This picture may inspire your little one to catch a flight to London. Did you know London is the smallest city in England, and more than half of the city's underground train system runs above ground? There are also more than 300 languages spoken in London. A few famous people who've lived in London include Charles Darwin, Sylvia Plath, and Jimi Hendrix.
Click here to print all of the city coloring pages at once!
This article was originally published on