Netflix's 'City Of Ghosts' Is Your Kids' New Favorite Show (And Yours, Too, TBH)
by Julie Scagell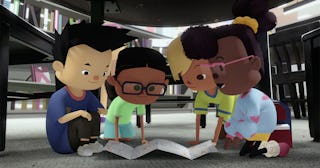 NETFLIX
This is an experience unlike anything we've ever seen
If you're looking for something new and exciting to watch with your kids on Netflix after your 800th viewing of Soul, the streaming service announced it is dropping a new series for kids that's completely different from anything you've seen before.
City of Ghosts is a documentary-style series featuring diverse, animated characters along with live-action backgrounds to give viewers an experience like nothing else on the platform. The show follows Zelda, a little girl from Los Angeles who forms The Ghost Club with a bunch of friends. According to Netflix, they spend time going around the city interviewing ghosts, solving mysteries, and learning about the city's rich history.
Each episode — which is based on and voiced by actual residents from around the city of L.A. — follows the members of The Ghost Club as they help others learn to inhabit the present by communicating with the ghosts of the past. It's a fun, unique approach to delivering content kids can connect to, and be both entertained and educated.
The show was created by Emmy-award-winning animation director Elizabeth Ito (Adventure Time), who took inspiration from her own family to create the series. She tweeted about the experience, saying, "It is surreal to be watching the world being introduced to City of Ghosts today, but also trying to be here for my kids zoom 1st grade." We feel that.
"I created City of Ghosts for my kids and I to watch together," Ito told POPSUGAR. "My goal was to create a quieter, gentler show that could also teach them about the different people and communities that make Los Angeles special. I also hope kids, especially mine, see themselves represented as the smart, funny, and intuitive people that I see them as."
When the show premieres on Netflix on March 5, it will show the first six-episode season, so viewers can get into the characters and their storyline. The show also features a diverse cast of characters, so every child has the opportunity to see themselves on screen.
"I think as you have more younger creatives, there tends to be more of an openness to show who they are," Ito, an animation veteran and writer, told The Hollywood Reporter. "Gradually, there has been a little bit more acceptance and more awareness of all sorts of things that I think everybody was really clumsy about before as far as diversity and representation, not even just talking about race."
With shows like City of Ghosts, Glitch Techs, and Soul, Netflix continues to lead the way bringing engaging, diverse characters into our homes — and that is a very good thing for all of us.