Claire Crawley Is The Season 16 Bachelorette And Fans Are Confused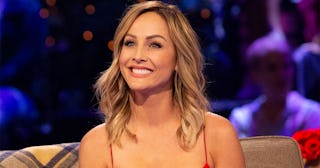 ABC
The next Bachelorette has been officially announced, and reactions are definitely mixed
It's official: We have our next Bachelorette. The leading lady of the upcoming season, which should start filming in a couple weeks, was revealed on Good Morning America today, and some of Bachelor Nation is understandably confused about the choice: Clare Crawley, who was first seen as a contestant on Juan Pablo's season all the way back in 2014.
This is a break from the standard Bachelor franchise tradition, where normally the Bachelorette is chosen from the last few finalists on the most recent season of the show. But Peter Weber has been having a tough season, and none of his finalists are particular fan favorites. In fact, no one on his entire season, himself included, has gotten a lot of love from fans. It's no wonder ABC execs chose to reach back into the Bachelor archives to come up with a different lead, and we don't think they could have done much better than Clare.
But the 38-year-old hasn't been on a Bachelor show in years, so, to put it lightly, people are a little confused about this.
But I'm here to tell you, Bachelor Nation, that Clare is going to knock this out of the park. For those who don't remember her, here are all the reasons we can't wait to see her season.
For starters, she was epic on Juan Pablo's season. He treated her like garbage, and in response, she showed up to the final rose ceremony—the moment that could have been her own proposal—and didn't even let Juan Pablo get a word in as she told him to f*ck off, spun on her heel, and walked out of there. Honestly, she probably would have been the Bachelorette after that, except Bachelor in Paradise debuted that summer, so she was made part of that cast instead.
Poor Clare had no luck finding love in Paradise, and she announced her retirement from Bachelor franchise shows in 2015—only to return in 2018 for Bachelor Winter Games, where she found herself stuck in a love triangle with Swiss Christian Rauch, and French-Canadian Benoit Beauséjour-Savard. After a lot of drama, Clare broke things off with both men and went home alone, only to rekindle her romance with Benoit after filming and get engaged at the live post-show. Unfortunately, that didn't work out either, and they broke up about a month later.
Now, Clare is 38 (and will turn 39 during filming), which makes her the oldest woman to land a lead role in Bachelorette history. This is pretty major for a show that routinely age-shames women. It's also an answer to the show's double-standard about age — women in their late 20s are considered not to be viable candidates for 20-something leading men, but The Bachelor routinely casts male stars in their 30s or even 40s (Nick Viall and Arie Luyendyk, Jr., just to name a few) and no one bats an eye when they date female contestants who are 21 or 22 years old. Rumor has it Clare's cast already includes a few men in their early 20s (and some silver foxes, who we're also excited to see), which means that finally, the show is treating a female contestant the same way it would a male one.
After the train wreck that has been Peter's season, Clare is the Bachelorette we want and deserve. We can't wait to see her season, and see her find the love she's been searching for.
This article was originally published on