Clare Crawley Opens Up About Why She's Removing Her Breast Implants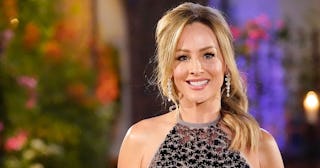 Craig Sjodin/Getty
Bachelorette star Clare Crawley shared why she's removing her breast implants, revealing that her body is "fighting them"
In a video she posted to Instagram over the weekend, Clare Crawley revealed that she's removing her breast implants after experiencing "scary" health symptoms for years, which she's recently linked to her implants after undergoing extensive treatments and testing by numerous doctors, she explained.
The Bachelorette star told fans and followers why she hasn't been posting as much on social media lately, sharing that she's "been going through things medically with my body that [she has] not had answers to," adding, "It's been hard, it's been frustrating and it's been scary for me to not have answers and to know something's not right."
"My skin has been having really bad hives and rash. My whole body is just inflamed and itchy. I've had blood test after blood test," she shared, adding, "That is not my only symptom, but that is the most physical one. It's so frustrating."
Crawley explained she tried treating her skin issues by visiting numerous specialists and undergoing several tests, trying medications and holistic treatments including antihistamines, antibiotics, and more, adding, the situation "came to a head about a month ago when I was at the chiropractor."
It seems her chiropractor did an x-ray and noticed "a huge pocket of fluid" behind one of her implants, and he advised her to go for a mammogram. The 40-year-old was due for one anyway, and her doctors found fluid sacs behind her implants, which required her to undergo multiple mammograms and an ultrasound.
She also learned that her white blood cell count has been elevated over the last five years, which her doctors believe is linked to her breast implants. "My body is fighting them, and recognizes [the implants] as something foreign in my body" she shared, noting her glands are still swollen. "My body can't heal. My body is in fight mode constantly. It's exhausting, it's depressing, it's frustrating. It's all making sense, it's all coming together."
Crawley shared that as much as she's "loved" her implants, "I love my health more," she said. "I love my well-being more. That's what matters."
In the caption of her post, the California native revealed that she's taking followers along for the journey "in hopes that it might help others going through something similar feel not so alone."
Increased reports of myriad illnesses related to breast implants have been on the rise in recent years, with sufferers reporting full-body symptoms from joint pain, fatigue, rashes and other skin issues, and more after having implant surgery. The symptoms are difficult to pinpoint and link to implants because they sometimes show up months to years after surgery, but researchers are looking into the link between breast implants and why certain people seem to reject them and respond with varying symptoms, as Crawley shares she's been dealing with.
Crawley ended her caption by writing, "I know how being your own health advocate is hard sometimes, and can feel like an uphill battle. This is the reality of life for so many people though!" She thanked the loved ones in her life who are there for not just the "peaks but in the valleys as well."